Beginning in the early 1980s, the Myth Makers videos built up a tremendous archive of video interviews with the cast and crew of Doctor Who.
This new DVD release collects together six of the main players of the Pertwee era.
Hosted by Nicholas Briggs, long before he became the 'voice of the Daleks', each film devotes an hour to its subject, discussing their time on the show and their career before and after.
The Jon Pertwee film is an audience with the man himself, where we learned plenty about his early exploits; coming from a proud theatrical tradition, he attended RADA (but was thrown out as he didn't want to be a Greek wind) and went on to work extensively in radio, television and film. Engaging, if a little imperious, Pertwee holds forth magnificently and also entertains briefly as Worzel Gummidge, his highly successful scarecrow character.
Briggs interviews Katy Manning (Jo Grant) on the set of 'Lust in Space'; a 1998 comic documentary which looked at sexism in Doctor Who, and it is interesting as she had only recently returned from living in Australia. We are treated to the true story of Katy's casting, her disastrous first day and her myopic struggles on set. Irrepressible as ever, Katy talks her way through each of her stories with notes on fashion and lots of giggling.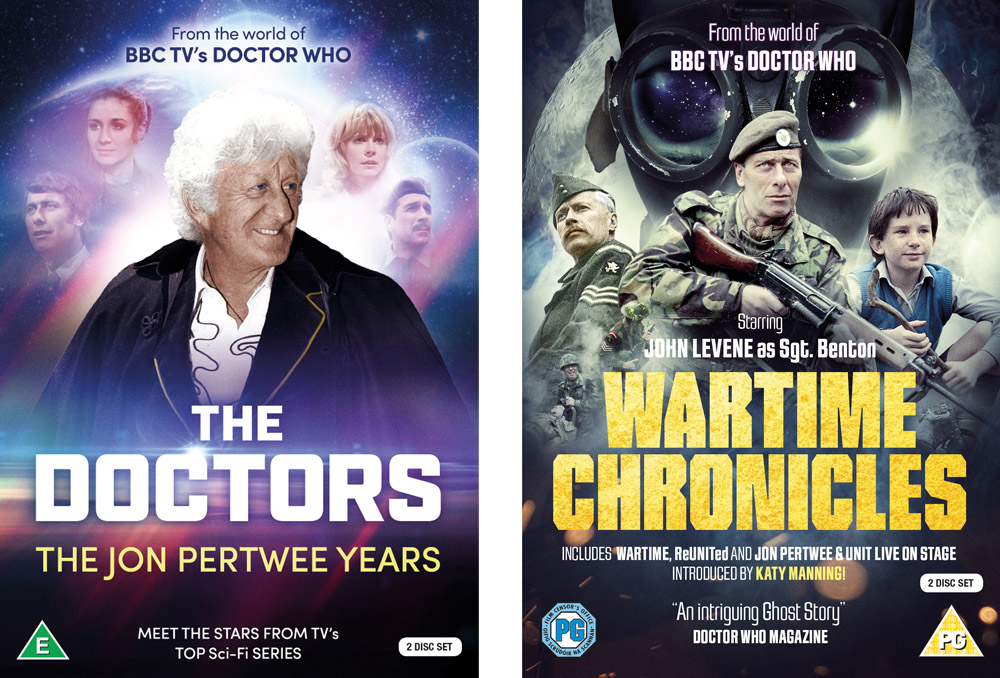 With Caroline John (Liz Shaw), it is a walk through old locations with tales of makeshift loos behind umbrellas followed by a charming chat though her career, of which Doctor Who was really only a footnote.
The UNIT boys fill up the second disc and Nicholas Courtney (The Brigadier) exudes charm as he is interviewed both in his car, at the location for 'Battlefield' and on at the school shown in 'Mawdryn Undead'. Again, there is much to learn about his early life, his time working with multiple Doctors and tale from stage work too.
We also spend time with the thoughtful Richard Franklin (Mike Yates), where there is much talk of the jobbing actor's life and meet the colourful character who is John Levene (Benton), with talk of cruise ships, cabaret and an endless supply of appalling jokes.
In many ways these films are now bittersweet; while most were recorded some twenty years after the Pertwee Doctor Who stories were made, the interviews themselves are now some twenty years old and sadly, three of the subjects featured here are no longer with us. What shines through however, from all the interviewees, is the rapport between the actors – the oft mentioned UNIT family – and the deep affection they held for each other.
For both older fans, and those only now discovering the show's history, these films are a great way to step behind the scenes of the show and learn about its stars. It is also great to hear some of the classic tales, such as the famous Eyepatch story told by those involved. Also, for six hours of entertainment, they are incredibly good value too!

Released on DVD on Monday 6 March 2017 by Koch Media.
Buy The Doctors: The Jon Pertwee Years on DVD on Amazon here.
What did you think of The Doctors: The Jon Pertwee Years? Let us know below…