Downton Abbey returns next month for a final season.
With the last ever episode due to air on Christmas Day, following eight episodes this autumn, we had a think about what we'd like the show's many characters to get up to before they take their final bow.
Cue the titles…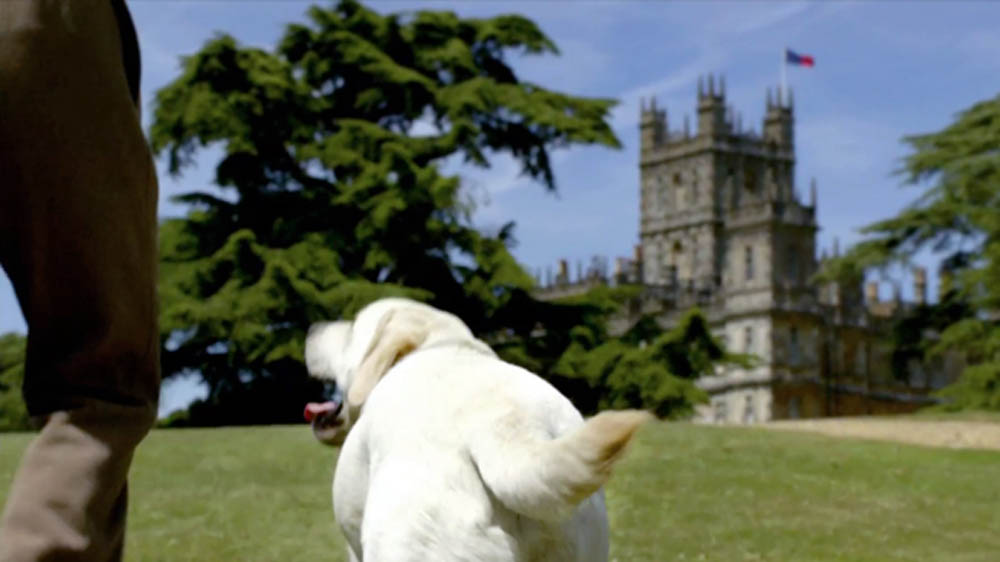 Tom and Sybbie are off in America and Lady Mary is lonely and bored. She's grown weary of discussing the building plans for Pips Corner with her father, along with the majority of the audience. She fills her time with her newfound infatuation for men and fast cars (Henry Talbot), spending her weekends on "sketching trips with her girl friend".
Meanwhile, Lord Grantham takes over the financial management of the estate—not his long suit. History repeats itself, and Downton is, once again, bankrupt. A tearful scene ensues in front of a roaring fire in the library where he is breaking the news to Cora. Lady Mary interrupts them (as Cora is reaching for the heaviest of the fireplace pokers) to deliver the news that she is pregnant and BabyDaddy has declined to do the right thing.
With more pressing business at hand than beaning her idiot husband, Cora telephones their go-to in this situation: Lady Rosamund Painswick. Lady R, however, is not willing to shepherd another pregnant niece around Europe. She's too busy being courted by Lord Merton and measuring his place for new drapes and carpets.
With no other alternative, Lady Mary is shipped off to live with Lady Edith in London. Lady Edith, as we all know, is a talented journalist. It turns out she is an even sharper businesswoman. She's tripled the size of Michael Gregson's publishing holdings and has amassed enough money to buy out Richard Carlisle when he decides to sell up and head to America.
Lady Edith also has enough cash to buy Grantham House from her parents. She ensconces Lady Mary in a basement suite to write a ladies advice column for one of Carlisle's lesser publications.
Now that Lord Grantham is in a financial pinch, the staff at the Abbey must be reduced. Mrs. Hughes and Mr. Carson get married and move off to run their B&B. They take Mr. Molesley and Ms. Baxter (now Mrs. Molesley) with them to help. Anna and Mr. Bates have twins and move to London to work for Lady Edith. Lady Mary acts as nanny for the Bates' twins.
Michael Gregson recovers from his amnesia and returns home, abandoning his quest for German citizenship and a German divorce. He and Lady Edith are happily reunited, and he is beside himself happy about Marigold (apart from that name). The spectre of his insane wife raises its ugly head, and Anna and Mr. Bates decide to do something about it. With their in-depth knowledge of the British criminal code, they cook up a foolproof way to bump off the annoying Mrs. Gregson. They implement their plan and pull it off, with no one the wiser.
Daisy has been busy in the kitchens, concocting chocolates the likes of which no one has ever seen. Mr. Mason passes away and leaves her the farm and a surprising nest egg. Exploiting her contacts with Alfred (now head chef at the Ritz) and Lady Rose in America, Daisy becomes a renowned chocolatier. She hires Mrs. Patmore and, together, they build the most successful candy company of the decade. With a shrewd eye for talented entrepreneurs, Lord Sinderby is her financier.
Isobel Crawley and Dr. Clarkson get married, and Mr. Barrow shows surprising loyalty to Lord Grantham by staying on at the Abbey, despite a sharp drop in pay. Lord Grantham allows him to hire a cook. Mr. Barrow hires a nice man that shares his orientation, and they are quietly happy together.
The Dowager Countess lands a lucrative engagement as a spokesperson for anti-aging serums, since she is well over one hundred and still going strong. We do not, under any circumstances, want the DC to make her final exit. Ending the series is one thing: we could not forgive this. Mr. Fellowes, take heed.
In the Christmas special, Tom returns from America. He's rich as creases from his string of auto dealerships and determined to bring his business model to England. He buys Downton from Lord Grantham and marries Lady Mary.
The camera fades as Lord Grantham gets a puppy in his stocking.
> Buy Season 5 on DVD on Amazon.
How do you think Downton Abbey should end? Let us know below…