In a video released by the BBC today, Jodie Whittaker spoke of the collaborative effort between herself and costume designer Ray Holman to come up with the unique thirteenth Doctor's costume.
Whittaker had before spoken of a photograph which was the main inspiration for her Doctor's look but had never identified the photograph until now.
"The main journey of it came from a photograph that I found of a woman in [cropped] trousers, braces and a t-shirt walking – with purpose. And I loved it and it felt timeless, it felt intriguing and kind of open to interpretation and I really love that. And it was neither male or female which was really important to me."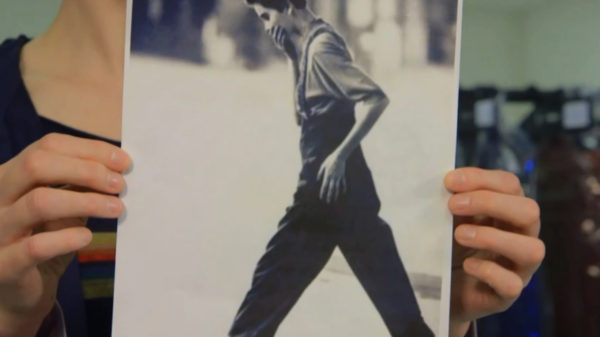 The image turns out to be from a "Big Bottoms" fashion shoot in the September 1988 issue of the alternative teen magazine Sassy, which published its last issue in 1996. The photo was taken by fashion photographer William Garrett as part of a fashion spread showcasing young women in stylish menswear.
In previous interviews, Whittaker has spoken of finding the photo on the internet. She could not say what search parameters she used when she found the photo but a Google image search of it turns up words such as "cute boyish look," "tomboy style" and "androgyne".
The photo is in black and white and Jodie Whittaker and Ray Holman collaborated to add color with Whittaker choosing color of her coat exterior and interior as the day and night sky, respectively. Holman suggested adding the lavender lining to the sleeves so that the Doctor can show a color associated with Women's Suffrage whenever she rolls up her sleeves.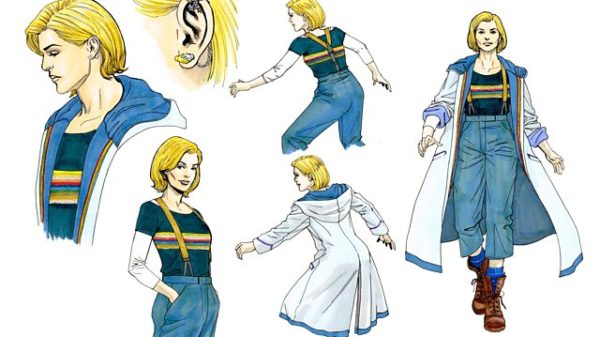 With thee concept of the costume selected from clothing available in a charity shop, Whittaker wanted the Doctor to choose the items that would feel the most comfortable.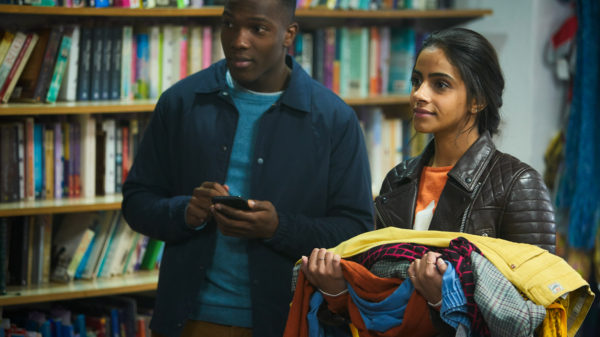 The concept behind the earring, crafted by jeweler Alex Monroe, was also described in the video. Ray Holman also described the concept in a BBC blog:
"The story is that the stars are where the Doctor comes from, the chain is the journey and the hands of peace represent her love of humans."
Watch the full video below.