In preparation for the upcoming Toast of Tinseltown, BBC iPlayer have delivered a festive treat. 
Things surely aren't what they used to be in our new, multi-streaming platform world. Despite airing for three series between 2015 and 2017 on Channel 4, the brilliant Toast of London has just landed wholesale on BBC iPlayer.
The Rose d'Or award winning comedy series, starring Matt Berry as hammy thespian Steven Toast, ran for eighteen episodes. Written by Berry and Arthur Matthews (Father Ted), the show revelled in Toast's flagging career, his rivalry with fellow actor Ray "Bloody" Purchase and his dubious sexual exploits. Plus, of course, his voice over work.
Along with Berry, the show starred Doon Mackichan as Jane Plough, Toast's agent, Robert Bathurst, Harry Peacock and Tracey-Ann Oberman. Plus, of course Shazad Lafif (Star Trek: Discovery) as the wonderfully named Clem Fandango, whose name inspired a million t-shirts.
The show became well known for it's guest stars and cameos, with appearances from Peter Davison, Amanda Donohoe, Jon Hamm and Geoffrey McGivern.
Toast of Tinseltown
Steven Toast's arrival on iPlayer is a prelude to the upcoming sequel series, Toast of Tinseltown, which will see the actor heading stateside this January.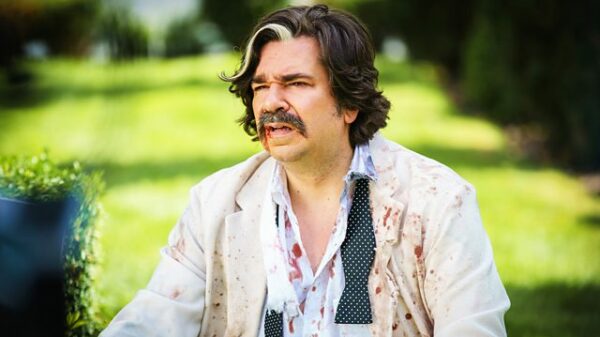 The episode titles are as follows;
Anger Man – Toast is becoming increasingly angry, and everyone has noticed. There's no chance of landing a big movie audition when he's in this state. Toast needs anger management therapy.
L.A. Story – Toast gets offered his first part in a major Hollywood film, but can he get through the increasingly bizarre auditions?
The Scorecard – Russ is far from pleased that Toast is going on a date with glamorous sexologist, Shepherd Gerbil, but Toast is smitten despite her rather clinical lovemaking.
Doctor Grainger – After attending a 'doctor acting' masterclass by Richard Chickentoss, Toast lands the role of a doctor in a successful hospital soap alongside Latina singing sensation, Carmen.
Death Valley – Toast has been signed up to star in a Western. However, after a very bumpy trailer ride Toast finds himself marooned in the desert and no sign of anybody else from the crew.
Monster Mash – Toast is looking forward to being on the set of the new Star Wars movie but things soon become complicated when he is kidnapped by two inept criminals.
Created and written by Arthur Mathews and Matt Berry, Toast of Tinseltown is an Objective Fiction production in association with wiip.
The show is coming to BBC Two on the 4th of January 2022, at 10PM, and iPlayer thereafter. Might this be the best news ever…. Yes!