The BBC Commercial plans make for an interesting read (if you're wondering about the future of TV consumption) but need some context
We have already reported on the BBC's need to consider it's long-term strategy, and in particular it's dependency on the licence fee. Today the BBC has released what it describes as "ambitious plans to build commercial income" along with successes so far. Let's walk through the details.
The BBC's commercial success so far in context
In 2019/20, financial returns from the BBC's largest commercial subsidiary, BBC Studios, totalled £276m, principally via content investment and dividends. Building on that success, BBC Studios today confirms that it is on track to meet its five year returns commitment of £1.2bn by 2021/22, an increase of 18% on the previous five years, despite a significant impact on this year from the Covid-19 pandemic
In other words it looks like targets previously set will be met. If BBC Studios is the largest component of the BBC's commercial profits, we can speculate the total from all other avenues might be (this is a guess for illustrative purposes) quarter as much again (Pareto principle rather than a straight guess). If true, this suggest a yearly income of £345m. As we said, this is just speculation.
What isn't speculation is the licence fee income, which is a matter of public record (eg the House Of Commons Library).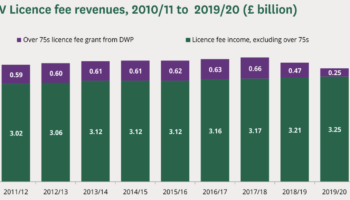 From a quick look at the data (and the graph for the last few years is above) we see the typical income from the licence fee is in excess of £3 billion per annum. This is over eight times higher than the income achieved. It's worth taking a closer look at the graph; the purple element is the licence fee top-up for over 75 from central government. The drop in this income is £0.22 billion for 2019/20, or £220 million. This means the income from BBC Studios covered the drop in the over 75 topup, but not by much. In other words the corporation (overall) is worse off. If you follow BBC announcements this will not be a surprise, but it is interesting seeing the figures.
Looking to the future
The BBC has limited ability to change the past or the government contribution, so plans its own future on known constraints. Its new plans are:
Against a backdrop of fierce global competition, BBC Studios has committed to grow this total by a further 30% to a new target of £1.5bn in the five years from 2022/23.
This doesn't makeup for the shortfall in topup. Is it too slow? Is it the best the BBC can do in the circumstances?
They also mention other parts of their plan:
BBC Children's Production […] will transfer into BBC Studios from April 2022. This will enable it to access the commercial model proven in UK production since 2017 – competing in the market for commissions and working for a range of customers.
BBC Three's in-house production team […] will become part of BBC Studios from April
BBC Studios will also become responsible for the commercial management of BBC Global News Ltd (GNL) […] during the course of 2021
BBC Studios is putting plans in place to realise new digital revenue streams for the medium to long term outside the UK by establishing complementary focused digital services built around British content
…further expansion of the BritBox International JV in up to 25 markets, as announced last year, with four now operational or imminent outside the UK, and new SVOD channel BBC Select, for culture, politics and ideas, which launched last month in the US and Canada
We've recently mentioned changes to BBC Three and expansion of BritBox (which is a joint venture, so BBC only gets some of the revenues) and it does seem like they are all part of a coherent strategy.
Is it enough? Arguably the BBC can only change at a certain pace, but to our eyes (on this level of analysis) the BBC has a long way to go if its to be ready for a major change in its core funding. You can read the full announcement for more details, add as ever we'll keep you posted.