The Daleks, a 1960s story filmed in black and white, will be available with artistic colourisation as part of the 60th anniversary celebrations of Doctor Who.
Originally transmitted in December 1963 to February 1964, The Daleks were introduced to audiences and soon became one of the Doctor's most formidable and enduring foes. The story follows the very first crew of the TARDIS as they land in a petrified forest on an alien planet. Determined to explore, the Doctor (William Hartnell) leads his companions into the metal city, where they discover danger at every corner and what will become his deadliest enemy, the mutant Daleks.
The seven original 25-minute episodes have now received a dazzling colourised makeover lead by Richard Tipple and have been weaved together into a 75-minute blockbuster to appeal to today's modern audiences. With brand new sound, a brand new score – created by Mark Ayres – The Daleks has been spectacularly updated, while remaining true to original classic story.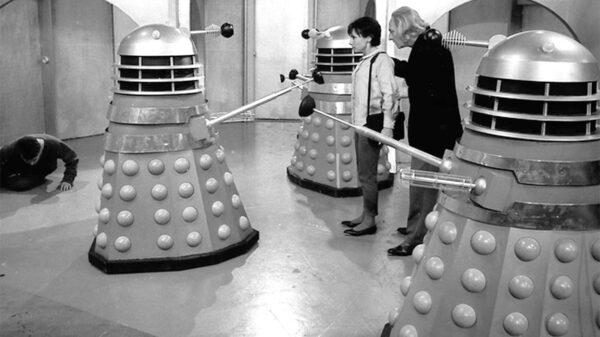 The colourisation is produced by Bad Wolf with BBC Studios and executive produced by Russell T Davies, Jane Tranter, Julie Gardner, Phil Collinson and Joel Collins.
"It's been my absolute pleasure to spend this past 12 months working with such a talented team to breathe new life into this classic adventure – a story that is literally the foundation stone of all that Doctor Who has become," said Executive Producer Phil Collinson. "The original is a masterpiece of 1960's television drama and this new version stands on the shoulders of the pioneering spirit of 1960's Doctor Who."
The Daleks will also be available in its original form as a seven-part story on iPlayer.
The Daleks colourisation will air on 23 November, 2023 on BBC Four and iPlayer.