The inspiration for the rainbow scarf Jodie Whittaker wears in the Doctor Who New Year's special, Resolution came from the series' make-up designer Claire Pritchard-Jones and her husband, production designer Arwel Wyn Jones.
Showrunner Chris Chibnall explains in Doctor Who Magazine.
"Claire bought Arwel a scarf for Christmas. He wore it around the production. Ray Holman [the costume designer] saw it and thought it would be perfect for Jodie's Doctor. Ray showed it to Jodie, who loved it, and he saved it for the special."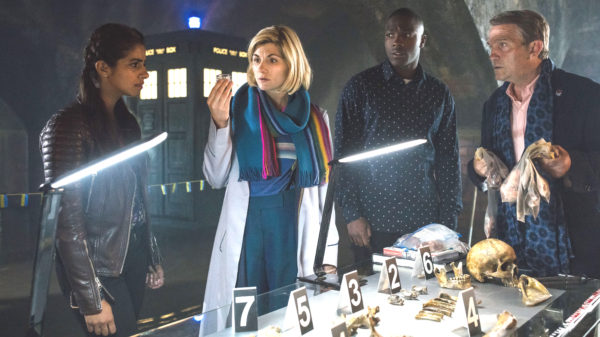 Chris Chibnall also revealed to the magazine why the Doctor wears the colorful scarf in Resolution.
"When we meet the gang at the beginning of the Special, they've been off on their travels. The Doctor's obviously picked up a scarf on the way."

"This Doctor is never afraid to accessorise, be it bum bag or scarf."

"We all think it suits her. And it's always nice to see the Doctor rocking a scarf."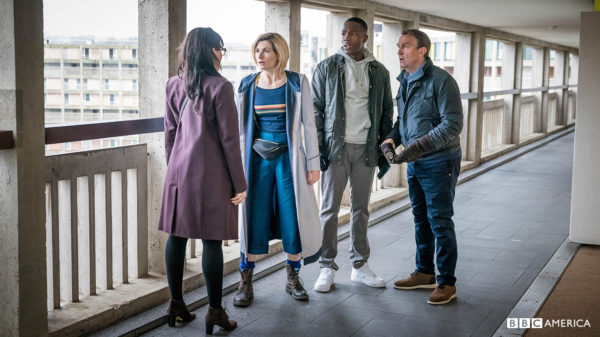 The scarf is by designer Paul Smith.
Nice scarf Doctor! Restocked by popular demand, shop the scarf here: https://t.co/ahBLdTOsLB pic.twitter.com/5XRPsSicRJ

— Paul Smith (@PaulSmithDesign) December 12, 2018
Written by Chris Chibnall and directed by Wayne Yip, Resolution airs on Tuesday, January 1 at 7:00 p.m. on BBC One, and 8:00 p.m. on BBC America.