The BBC has officially announced that the Doctor Who Series 12 trailer will be released at 15:00 GMT.
Ahead of the trailer some news has been released by several news outlets. The news outlets were invited visit to Roath Lock Studios on September 24, just as the cast and crew were wrapping Doctor Who Series 12 and about to begin filming the special. Showrunner Chris Chibnall, Jodie Whittaker (the Doctor), Bradley Walsh (Graham), Mandip Gill (Yaz) and Tosin Cole (Ryan) were present to answer questions.
The quotes in this article come from three of the publications that attended the press visit, Digital Spy, Radio Times and the Metro, and were given all the press attending.
One of the most interesting quotes from the visit came from Bradley Walsh who spoke of an actress on set in full prosthetic makeup:
"I had walked onto the set and everyone was talking to this actress. And I went, oh, hi, you'll have to reintroduce yourself later because I won't know you without all that". This person, I actually knew really well. I went 'hi, I'm Brad'. 'Yeah, I know.' It wasn't until Mandip pointed it out and said 'you worked with her on…' I went up to her and said 'I'm ever so sorry'. I had no idea it was them. It's extraordinary."
The actress in the prosthetics was likely is likely Anjli Mohindra, who worked with Bradley Walsh on an episode of The Sarah Jane Adventures titled The Day of the Clown. Mohindra will play a character called Queen Skithra, according to her Spotlight CV.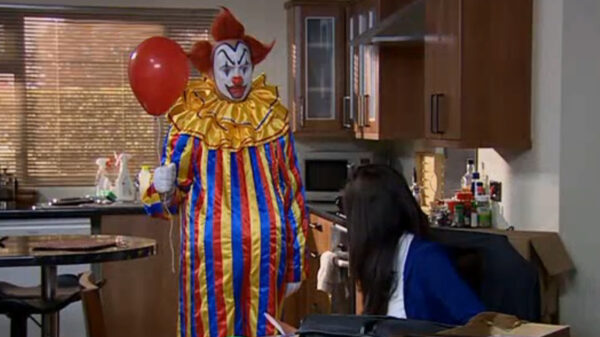 Walsh also spoke of the demands of filming the special:
"This is an ambitious shoot, it's the most ambitious shoot I've ever taken part in – with the stunts, the set builds, everything has to be rowing in the same direction. It's like a juggernaut. Get sleep, make sure you're conditioned to do this gig, because it's not an easy gig. I'm not being disrespectful to myself, but I'm in my 60th year and it's tough, it's hard, it's relentless. It really is. It's enjoyable, we have great fun doing it and the end product is nothing but extraordinary. You see where the money is spent and you see the expertise we have on the show and how well it is done. But you must get rest and look after yourself, or you will come unstuck, because it's 10 months of ramming speed."
Chris Chibnall spoke of the ambitious plans for the series:
"It's an ongoing journey so we're on a journey with this Doctor and these characters, so we want to do big, action-packed, emotional, scary, funny stories. I think we want to go up a level from last year."

"This year, we're saying…, 'Here's the amazing world of Doctor Who. Here's lots of treats. Here's some new stuff. Here's some old stuff. Let's see what you make of this'."

"I think the ambition is go up a level. I think we've done that."

"I think we've got some amazing monsters. It's probably a bit scarier. The thing is with Doctor Who, you've got to hit all of the notes… We've definitely got some bigger action set pieces. We've got some old monsters coming back. We've got some really brilliant new monsters. And there's a little thread trickling through."
Chibnall also spoke of the opening episode:
"It's big. It's the biggest episode we've done, and it might be the biggest episode the show has done. Lots of action, a lot of fun. 'It's a big, action-packed hoot."
Jodie Whittaker:
"The joy of something like Doctor Who is that you have the space and the breadth to explore so much more in character."

"To have the space to explore things, and not always contained to the one hour, and we can develop our relations between season 11 and into season 12, not everything has to be crammed into the opening episode."

"It feels like we don't have to do the introduction now because it's there. We can kinda go straight in."

"It all comes down to the writing, so all the hard work is done for me and us in that sense because essentially we are given these gems of characters on the page."

"If you think there's less pressure, you're probably not concentrating very well. We are the leads in a massive show that has a huge audience and that comes with a huge amount of responsibility, in a brilliant sense. You have to feel that, but it's not debilitating. It's probably the adrenaline we all run on anyway because we've picked a job where people clap you at the end of the day. We do probably thrive on pressure."
Tosin Cole:
"It's a different type of pressure though. Last season it was more because it was a new show – not a new show but a new showrunner, a new Doctor, a new way of approaching the show, so you have all of that. Now it's the pressure of building on what we've got and keeping the audience entertained and engaged with the show."
Mandip Gill spoke of her the improvements she made in her performance:
"…the hero run. From episode 10 in the last series to this one, I think I've smashed it."
We will share a breakdown of the Doctor Who Series 12 trailer tomorrow.