In what appears to be a reversal of what he said previously about a return to writing for Doctor Who, Neil Gaiman told Digital Spy that he would like to write for the thirteenth Doctor or a subsequent Doctor.
"Everything to do with anything about Doctor Who is always about time. I love The Doctor, I think Jodie Whittaker is a fabulous Doctor. On the one hand, I'd love to write for her, but on the one hand, I really, really, really wanted to write something for Peter Capaldi, and never got there because I was writing and making Good Omens through the Peter Capaldi years. So, you never know. With luck, I'll write something for Jodie, and if it isn't for Jodie, maybe it'll be the next Doctor down the line."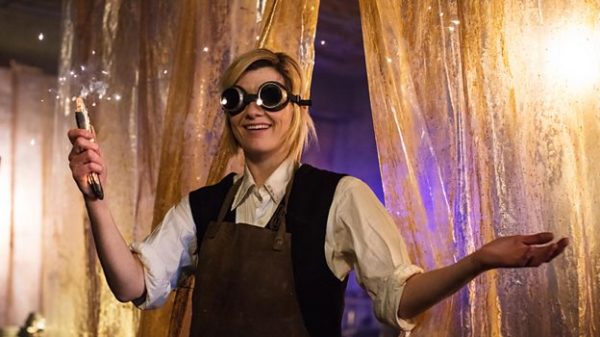 When Gaiman spoke to press at Amazon's Showcase in London in 2018, he wasn't so keen on a return, his second experience writing for the show having left a "bad taste" in his mouth.
"Let me answer politely, he said while explaining the importance of being a showrunner. I did two episodes of Doctor Who over the last decade. One I love and it won awards [The Doctor's Wife], one I do not love [Nightmare in Silver] and it is widely regarded as having some good bits in it – but being rather a curate's egg. And as far as I'm concerned, both of the scripts were of equal quality. The biggest differences were having a say in what actually got to the screen. A say in what got changed, a say in what got rewritten, a say in the cast. A say in all those things."
"I'm really glad that my second Doctor Who episode left me with a bad taste in my mouth," Gaiman said at the showcase. 
"When Terry said to me that you have to make this thing, and I knew that I had to make Good Omens, it also meant that I was like: OK, well if I'm going to do it then I'm going to be showrunner. Because I can't just write the scripts, hand them over to somebody and hope that I get something fantastic back. I may or I may not."
"If this is going to be f**ked up, it's going to be f**ked up by me personally, with love and dedication. And I will hope that it isn't, but it needs to be done properly, and I need to care."
Gaiman did briefly contribute his writing to the Series of Doctor Who spinoff media as part of the watch-alongs organized by Doctor Who Magazine writer Emily Cook keep fans entertained during the COVID-19 pandemic.
"I got [to] indulge my inner-Doctor Who fanboy during lockdown twice now, Gaiman told Digital Spy. First time, we did a tweet-along of The Doctor's Wife, and I wrote a three-minute bit for Arthur Darvill to do and that was wonderful, called Rory's Story."
"Then, I was asked to do a short story for a lockdown anthology for Children in Need, and I was asked if I would do something with my character The Corsair, who had shown up dead in The Doctor's Wife."
"I got to write a Corsair story, and it's a sort of glorious, mad piece of fan fiction. It was marvelous getting to write it, and getting to have a Doctor Who in it, and everything."
Doctor Who will return with a festive special this winter in Revolution of the Daleks.