On 21 June, 2021, a casting agency typically tasked with providing extras for various productions put out a call for Chinese men to play pirates for "an exciting BBC programme" on Instagram.
The post has since been deleted but a saved screen shot contains a photo of an Asian man with the words, "CASTING CALL" and "Chinese Men!"
The text of the post read, "We are looking for MEN OF SOUTH EAST ASIAN DESCENT to play PIRATES for an exciting BBC programme! Age 18+."
Along with a "Covid Test Date" and a "Fitting Date" in June, the post lists the location as "Cardiff" and "Shooting Dates: 1st, 5th, 6th July."
In addition to the casting agency's post, there is another post on Facebook which seems to be directly quoting an urgent casting call which came from the Doctor Who production office on 29 June, 2021. The casting call is posted on a Facebook page called British Chinese Network. This time, the casting call was for men to play sailors and men and women to play villagers on 5 and 6 July. The additional casting call suggests the production needed five more men in addition to the ones they had already cast.
5 Male extras needed for Doctor Who episode
Role: Sailors
Age: 18+
Dates for Sailors: 05 and 06 July
Times: 0730 – 1730
Location: Roath Lock Studios, CF10 4GA
Covid: Testing required Wed 30 June (Tomorrow!) and Friday 02 July
Costume fitting; Wed 30 June (Tomorrow!)
Role: Villagers
Shoot diary dates for villagers:
Men and women needed
Dates: Thursday 22, Friday 23 and Monday 26 July
Covid testing: Monday 19th
Fitting on Tuesday 20th
Location and pay as for sailors
Pay: £25.10 for covid testing x 2 days (and to include costume fitting day)
PLUS £86.40 for shoot day
45p paid per mile for travel petrol
If anyone is interested, the producer needs to know:
Height
Dress size
Shoe size
Role they would like to play
If transport / hotel required?
Selfie photo (and a CV – though not absolutely necessary)
The reason for the urgency is likely due to the number of extras required and perhaps competition from a Netflix production which is also seeking extras of similar ethnicity for filming in Cardiff.
The required roles and the size of the cast suggests an extensive set build at Roath Lock Studios with a village and Chinese sailing ships.
Jodie Whittaker was spotted
filming Doctor Who on Sully Beach in Wales
wearing a 19th century purple Chinese-style changshan tunic on 25 June, 2021. John Bishop was also present looking rather like a pirate wearing a poet shirt under a colourful waistcoat. Mandip Gill was also photographed on the beach in a plum tunic or frock.
Stars Jodi Whittaker and Mandip Gill were spotted!https://t.co/n62g3hlGwJ

— BarryNubNews (@BarryNubNews) June 25, 2021
One 19th century band of Chinese pirates was famously led by "Pirate Queen" Zheng Yi Sao.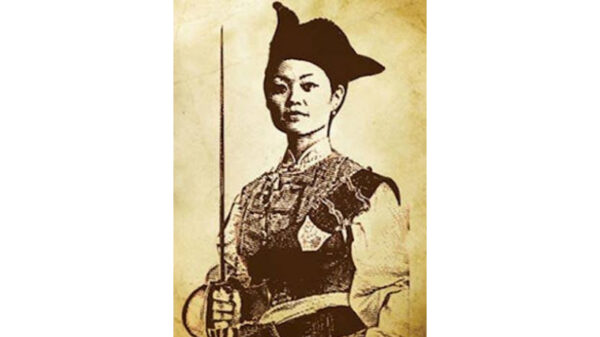 Eight episodes are planned for Doctor Who Series 13 with the filming continuing into July. The clip which introduced John Bishop as companion Dan revealed the series is scheduled to air sometime in 2021, likely late autumn.