The cast list for the first chapter of Doctor Who: Flux, The Halloween Apocalypse contains a very interesting name from Liverpool history.
Steve Oram will play Joseph Williamson, a 19th century English eccentric, businessman, property owner and philanthropist who is best known for the Williamson Tunnels, which were constructed under his direction in the Edge Hill area of Liverpool, ostensibly as a means to keep soldiers returning from the Napoleonic wars employed. Williamson was dubbed the "King of Edge Hill" and the "Mad Mole of Edge Hill" for his tunnel-building activity.
The Williamson Tunnels remained largely rubble-filled and inaccessible until archaeological investigations were carried out in 1995. Since then volunteers have rediscovered and excavated an extensive network of tunnels, chambers and voids across several sites, with some sections open to the public via guided tours.
We've previously received some intel from a contact in Liverpool about this very storyline but were unable to verify it until the release of the cast list.
According to our source, the storyline involving Williamson is said to revolve around a creature in the Williamson Tunnels. A photo of antique wheelbarrows from a Doctor Who camera trainee also supports our source's story.
I have dreamed of working on Doctor Who since I watched "Rose" on the 26th March 2005. 16 years and 21 days later, I walked onto the set of Doctor Who as a Camera Trainee.#ChildhoodDream #LifeGoal #SoHappyICouldCry #DreamsDoComeTrue pic.twitter.com/jsy7b5i5Db

— Megan Powell (@TeddyTrapMedia) April 17, 2021
It is likely the tunnel set was constructed inside Roath Lock Studios where the series was filmed – or they could have redressed the sewer set from the 2019 Doctor Who New Year's special Resolution.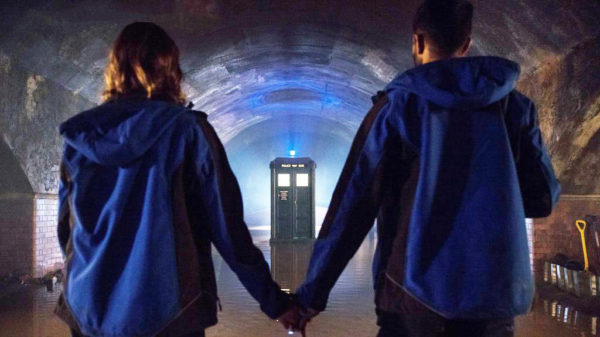 The creature in the tunnels is likely Karvanista, a character played by Craige Els who is also on the cast list for The Halloween Apocalypse.
Liverpool plaster and new Doctor companion Dan Lewis, played by John Bishop, appears to be captured by Karvanista in his apparently underground lair.
Since Doctor Who: Flux is a six-chapter story, Joseph Williamson could feature in subsequent chapters of Flux.
Written by Chris Chibnall and directed by Jamie Magnus Stone, The Halloween Apocalypse, believed to have a "global premiere" simultaneous start in some countries, will air 31 October on BBC One at 6:25pm BT and on BBC America at 2:25pm and 8pm ET.