This is the first official confirmation of Page's character.
Speaking as a guest on ITV chat show Loose Women yesterday, the Welsh actress revealed: "You don't expect three weeks after giving birth for them to phone and say 'Will you play Elizabeth I?' I said 'Yes, OK, but [my daughter]'s coming with me, and I think they knew not to mess with me, I was like a lioness."
She added: "I was 'I'm feeding, this is when she gets fed, she's coming on set, she's coming everywhere with me', and that's what happened. But everyone was just great."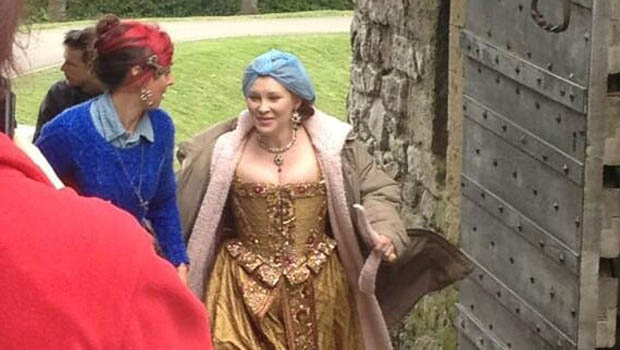 Page also recalled filming a horseback scene with David Tennant: "One day I was about to get on the back of a horse with David Tennant and James, my husband, drove in in the car with Eva, said 'She needs feeding' so I got off the horse, got in the back of the car, ripped open the bodice and Elizabeth I was breast feeding! That's a working mum for you."
'The Day of the Doctor' will air on Saturday 23 November simultaneously across six continents and at least 75 countries at the same time as the UK broadcast on BBC One.
> Find out all the latest info on 'The Day of the Doctor' in our news summary.
How do you think Elizabeth I will fit into the story? Let us know below…
> Order the 50th anniversary special on DVD on Amazon.
> Order the 50th anniversary special on Blu-ray on Amazon.
Watch the Series 7 Part 2 trailer…