Written by Barrowman and his sister Carole, Exodus Code was published by BBC Books last September.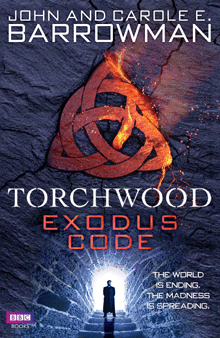 Asked if he'd be interested in adapting the book as a movie, TV series, webisodes or comic, the Arrow star exclusively told CultBox: "We'd be up for all of those things, especially a movie or another series."
> Read our full exclusive interview with John Barrowman.
The book's official synopsis reads: "It starts with a series of unexplained events. Earth tremors across the globe. Women being driven insane by their heightened and scrambled senses. And the world is starting to notice – the number one Twitter trend is #realfemmefatales. Governments and scientists are bewildered and silent. The world needs Torchwood, but there's not much of Torchwood left. Captain Jack has tracked the problem to its source: a village in Peru, where he's uncovered evidence of alien involvement. In Cardiff, Gwen Cooper has discovered something alien and somehow connected to Jack. If the world is to be restored, she has to warn him – but she's quickly becoming a victim of the madness too…"
John Barrowman's new fantasy novel, Bone Quill, written with his sister Carole E. Barrowman, is out this week.
Would you like to see an adaptation of Exodus Code? Let us know below…
> Buy Torchwood: Miracle Day on DVD on Amazon.
Watch the Miracle Day trailer…