Writer Steven Moffat appears to confirm the HBO show's premiere via Instagram. 
Here at CultBox, we've made no secret of our excitement for Steven Moffat's upcoming adaptation of The Time Traveler's Wife. The HBO series, based on Audrey Niffenegger's 2003 award winning novel, will star Rose Leslie (Vigil) and Theo James (Sanditon) as the time-crossed lovers Clare Abshire and Henry DeTamble.
The show filmed in 2021 and we've been waiting patiently for a premiere date. While there's nothing yet from HBO, Steven Moffat's instagram account has shared a picture of an Entertainment piece suggesting the show will be with us in May 2022.
View this post on Instagram
He endorses the piece with the comment "an air date and everything".
The Time Traveler's Wife
The show will tell the story of Henry DeTamble, an unwilling traveller in time. Born with a genetic disorder, Henry moves about in his own timeline. Through his travels, he forms a friendship with a girl, Clare Abshire, who later becomes his wife.
The story was adapted for the big screen in 2009 with Rachael McAdams and Eric Bana. However, the complicated, time-scrambled narrative suffered from being truncated to movie length; we have high hopes for the television show which has a roomier six episodes to play with.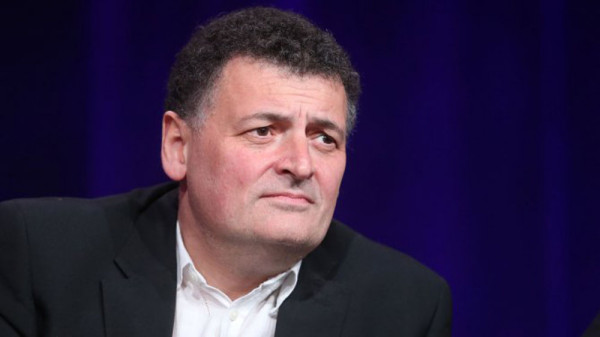 Speaking about the project, Steven Moffat said "It's about a time traveller but it's not science fiction" and he emphasised the romantic nature of the story:
"It uses the prism of time travel to brilliantly rearrange the details of an ordinary, yet very successful, love story. We often do tragic love stories and we often do divorces and we all do the story of how people first got together. These are the things that fiction tends to favor. The thing that we never ever write about is one of the most common phenomena in human history — the perfectly happy marriage."
As well as penning the scripts, he is an executive producer on the show, along with Sue Vertue and his former Doctor Who colleague Brian Minchin. The series is directed by David Nutter (Game of Thrones) and is a Hartswood Films production for HBO.
In the UK, the show is landing on Sky Atlantic. If the timescale is correct, we imagine there will be a trailer soon.
Naturally, we'll keep you posted.