Greg Daniels' tech satire will make good on that Season 2 cliffhanger. 
Amazon Studios have announced a third season for their science fiction comedy Upload.
The show follows the futuristic tale of Nathan (Robbie Amell) and Nora (Andy Allo); he's a deceased app developer uploaded to the luxurious digital afterlife of Lakeview, she is his assigned customer service "angel".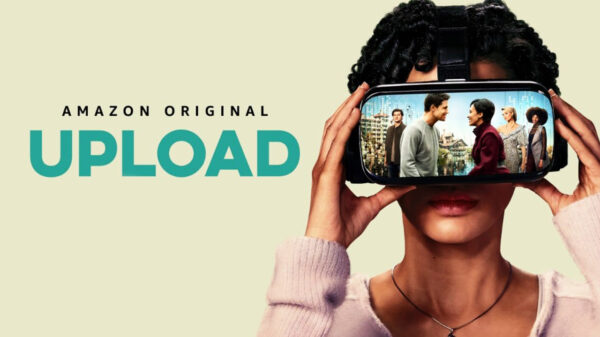 Upload takes places in corporate driven near-future America that is worryingly plausible. The show blends tech satire with conspiracy and a dash of gross out humour. As it has developed, Nathan has come to understand that his accidental death was part of a sinister corporate scheme and has found a way to fight back.
Download
We're thrilled to know that the story will continue. Season 2 made good on the concept of downloading into clones before concluding with another terrific cliffhanger. For more information on the show's production, there's an in-depth interview with Greg Daniels on Collider. Naturally, it's spoiler heavy.
In addition to Robbie Amell and Andy Allo, Upload stars Kevin Bigley, Allegra Edwards, Zainab Johnson, Owen Daniels, Josh Banday and Andrea Rosen.
On renewing the show Vernon Saunders, Amazon Studios head of global television, said:
"'Upload' has become a bonafide hit that continues to be one of the most watched comedy originals on Prime Video. The series continues to connect and provoke endless possibilities for the future of technology and humanity.
With Greg's distinct comedic take along with the dynamic creative team and talented actors, they've made a globally relevant series which we're all incredibly proud to bring back another season for our customers."
Creator Greg Daniels added:
"I'm thrilled to continue the story of Nathan and Nora and the other residents of Lakeview and near-future America as they try to have fun and do the right thing in both the real and virtual worlds."
There's no timescale yet for Upload Season 3. As Season 2 launched in March 2022, we're realistically looking at spring 2023 at the earliest.
We'll keep you posted.
In the meantime, both seasons of Upload are on Prime Video. Here's the trailer for Season 2: