Mary Shelley's Frankenstein (A Modern Prometheus) is a classic story most are aware of but few have read. This new audio release is a full cast dramatization adapted by Jonathan Barnes and directed by Scott Handcock.
The adaptation is faithful to Shelley's masterpiece (written when she was 18) and tells the story of how Victor Frankenstein's obsessions with his experiments led to his downfall and all those around him.
Being a Big Finish release there are plenty of connections to Doctor Who; Victor is played by Arthur Darvill (Rory Williams), the creature by Nicholas Briggs (voice of the Daleks and other monsters), Victor's father by Geoffrey Beevers (the Master from the classic series), his fiancée Elizabeth by Georgie Moffett (the Doctor's daughter) and Terry Molloy (Davros) also makes an appearance.
The story takes in the whole of the novel with sections covering Victor's time in Ingolstadt where he creates the creature, his subsequent return home, travels to Scotland, time in Ireland then back home again for his marriage to Elizabeth. Around the telling of Victor's life is a framing story set on the ship Oceanus whose Captain identifies with the driven obsessions of his guest, Victor and his determination to rid the world of his creation.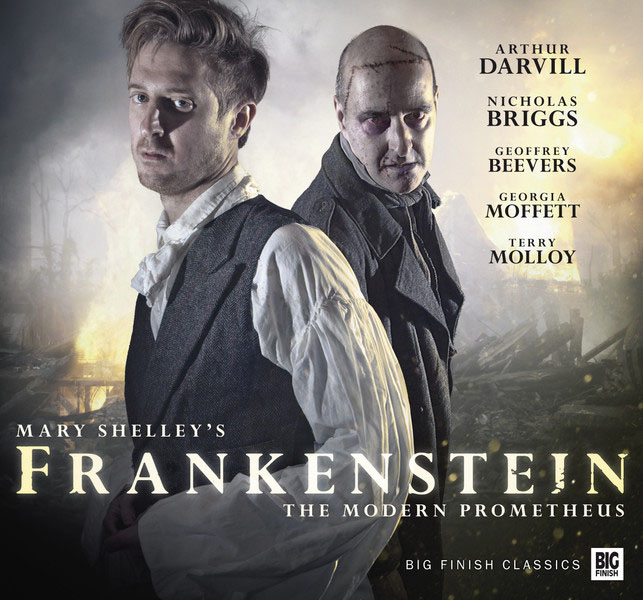 Central to the strength of this version of Frankenstein is the performance of its stars. Darvill is unrecognisable from the character of Rory and shows a great range of expression and passion. The counter to his almost inhuman arrogance is the tender performance of Briggs as the creature. Given this is radio Nick conjures the sense of the stitched together nature of the creature with a halting yet compelling voice that fits the listener's imagination from the moment it is heard.
Victor and the Creature take up the bulk of the three discs though there is plenty for most of the other characters to contribute. Female parts are less vital to the telling (despite the author's gender) and Georgia Moffett is somewhat wasted as Elizabeth whose only real contribution of substance is in some of the most important scenes near the end of the story.
At its heart, Frankenstein is a tale of the arrogance of science, the usurping of the role of the creator and the vile character of Victor himself. The creature may look like the monster (and be treated as such) but this version makes no excuses for the most monstrous character of all, young Victor.
Jonathan Barnes and everyone involved deserve to be congratulated for the quality of this story that does full justice to the original.
Extras: A full disc of interviews and behind the scenes discussion plus a full disc of the music used in the audio.

Released in October 2014 by Big Finish Productions Ltd.
> Follow Tony Jones on Twitter.
What did you think of the story? Let us know below…