As the title suggests, this tale serves as a prequel to elements of 'Death to the Daleks', in which the TARDIS, along with the crew of a human space-craft and a Dalek ship, became trapped on the planet of the Exxilons due to a power drain caused by their "City".
On this occasion, random chance that brings the Doctor, Leela and K-9 to an unnamed planet, arriving just in time to save a woman called Trexa from the spear of an angry native. The last survivor of her mission, she has been supervising a building project using the hulking primitive Tarls as a labour force in exchange for the gift of sophisticated technology.
Drawn dangerously into an escalating conflict, the Doctor manages to charm and impress the leader of the locals and he begins to question the nature of the deal that has been struck.
Nick Briggs script plays deftly with expectations and our familiarity with some story elements; though it would work equally well with no prior knowledge. We particularly enjoyed the Doctor's new title of "Everywhere Man", granted to him during his parlay with the Tarl leader Ergu.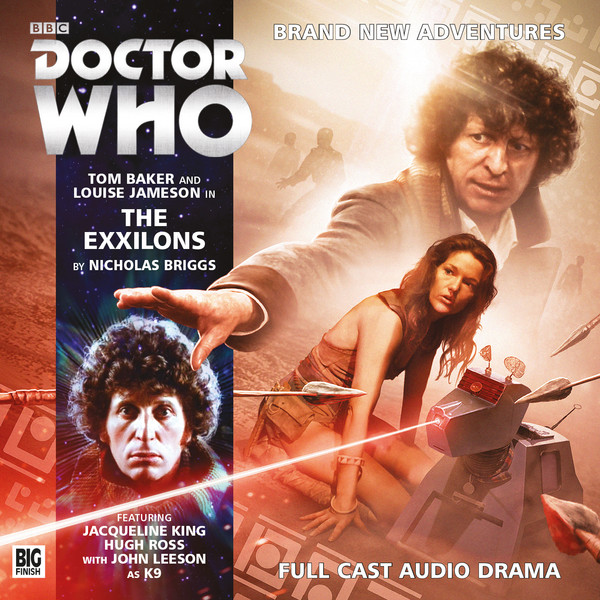 Joining the ever impressive Baker and Jameson, John Leeson reprises his role as the voice of K-9, with the mutt's tiresome physical limitations thankfully forgotten in audio.
Among the guest cast, Hugh Ross, better known as Counter-Measures' unflappable Sir Toby, plays an architect whose mania builds enjoyably throughout. Jacqueline King, seen on TV as Donna Noble's mother Sylvia, provides an American accent for Overseer Calura, clearly channelling her inner Starship captain to amusing effect.
Credit must also be given to Alistair Lock for a score which sits beautifully alongside Carey Blyton's wonderfully idiosyncratic music for 'Death to the Daleks'.
Extras: 15 minutes of interviews with the cast and crew, covering the making of the story and the reuniting of this particular TARDIS team.

Released in January 2015 by Big Finish Productions Ltd.
> Follow Ian McArdell on Twitter.
What did you think of the story? Let us know below…