With a leap and a bound Big Finish has opened the door on the Time War, the gap between so-called classic and modern eras of Doctor Who.
Executive producer Nick Briggs has been on record many times stating the Time War could never be tackled. How wrong he was, and how well he demonstrates how to do it with The War Doctor Volume One – Only the Monstrous a three-disc collection of adventures for the War Doctor as played by John Hurt.
Not only did Nick Briggs write this volume of stories, he also directed (and played the voice of the Daleks). John Hurt may have only appeared on screen in 2013's anniversary special 'The Day of the Doctor', but by the end of this collection we feel we are starting to understand his character and looking forward to February's next run of stories.
The three stories set out the main characters: the War Doctor himself, the manipulative Cardinal Ollistra (Jacqueline Pearce), various other Time Lords and a character named Rejoice. Although he's working closer with the Time Lords, the War Doctor is very much a maverick, hates being called Doctor and is abrasive to anyone who gets close to him.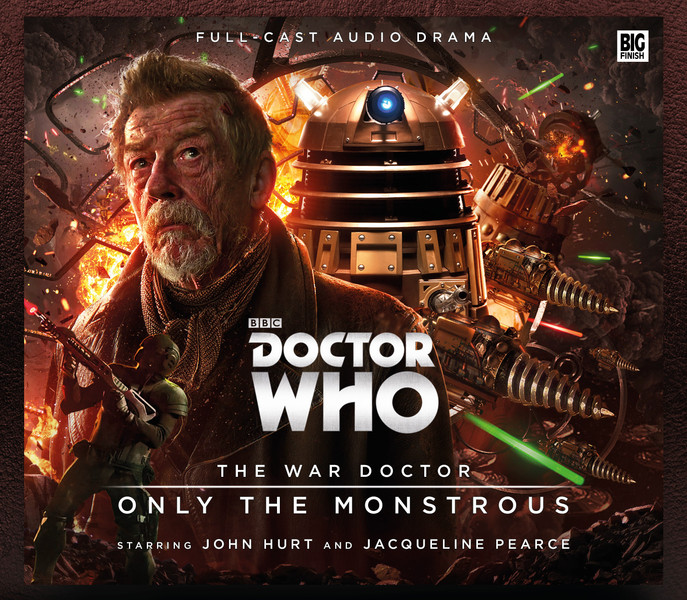 As might be imagined, Cardinal Ollistra starts off sounding like Servalan on Gallifrey, but the relationship with the War Doctor is more nuanced than any of Servalan's.
There are plenty of Daleks, slaves, 'Invasion of Earth'-style mining operations and plenty of standard Dalek tropes. Those familiar with Nick Brigg's 2001-2008 series Dalek Empire will also find much that is familiar, but don't assume this is a set of rehashes of old material. Instead this is a clever story with layers of betrayal, and a lot to recommend it.
Briggs' direction is tight, yet all the actors feel convincing and fully inhabit their roles. The headline stars are a treat, as are the many Big Finish favourites making up the company.
Even if you aren't sure about the way the War Doctor was slotted into continuity, this is a set of stories to add to your collection. There's even a martial, cinematic theme tune to help set the brand of this future classic.
Highly recommended.
Extras: A fourth disc full of behind the scenes cast interviews.

Released on Tuesday 24 November 2015 by Big Finish.
> Follow Tony Jones on Twitter.
What did you think of Volume 1? Let us know below…