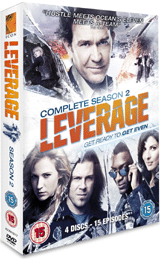 Ever wondered what Robin Hood would have been like if, instead of a vicious outlaw leading a gang of hosiery-clad men, it involved a gang of four criminals being led by a former insurance fraud investigator? Well, this is your lucky day my friends, as Leverage was created for you.
Aired in the UK on Bravo, which should give you a decent idea of what to expect, this release contains all 15 episodes of the show's 2009-2010 season and is a cracking watch.
The gang consists of Parker (Beth Reisgraf), a blond thief who loves her work, Hardison (Aldis Hodge), a hacker who can seamlessly combine computers, codes and Star Trek references, Sophie (Gina Bellman), the grifter and token British member of the team, and Eliot (Christian Kane), the muscle man and 'retrieval expert'. The team is led by Nathan 'Nate' Ford (Timothy Hutton), who masterminds their heists and cons.
Season 2 opens with the group getting back together for 'one last job', before settling back into working together to help people in need of their assistance. In essence, the show is an American procedural drama, along the lines of CSI, NCIS or any number of other shows named after acronyms. Where Leverage differs from these is its good sense of humour about itself, with a vague whiff of '90s cheese.
Leverage has been described by The Times as "Hustle meets Ocean's 11, meets The A-Team", which in essence is correct. Just like The A-Team, the gang are usually hired by people who seem to find them when they need them the most, then a con is decided upon and put into motion. Inevitably, through twists and turns, the plan is completed by the end of the episode.
However, it balances the predictability of a procedural drama with just the right balance of recurring characters and relationship arcs to keep interest going. Following a slight dip in quality for a couple of episodes after the season opener, a plot arc arises through the second half of the season which involves a significant change in the chemistry of the team, climbing steadily upwards to a nail-biting finale.
And then there's the casting. Whilst the leads may not be particularly familiar faces (unless you too remember Christian Kane from his appearances as Lindsay in Angel), they do a fabulous job, balancing the drama, humour and even the occasional hint of romance. Other cult favourites to look out for throughout this series include Jeri Ryan (Star Trek: Voyager's Seven of Nine) in a multi-episode arc, and a small Middleman reunion with appearances from Marc Sheppard and Matt Keeslar in Episode 12, 'The Zanzibar Marketplace Job'.

Released on DVD on Monday 31st January 2011 by Icon Home Entertainment.