'Isn't the temptation of heroism coming a little late in your career?' MI5 officer Johnny Worricker is asked by one of his colleagues – and the dilemma of whether to serve the interests of one's country, one's loved ones or one's superiors lies at the heart of David Hare's one-off spy thriller, which despite being set long after the cessation of the Cold War retains a distinct chilliness.
Bill Nighy stars as Worricker, a jaded intelligence analyst who is entrusted with a potentially lethal secret by his best friend, Director-General of MI5, Benedict Barron (Michael Gambon): a file containing proof that Prime Minister Alec Beasley (Ralph Fiennes) was aware of American evidence of terrorist threats to the UK but suppressed the information from parliament.
When Barron dies, Johnny is the only person who can expose the truth – but at what cost? Can he use his knowledge to help his beautiful neighbour Nancy Pierpan (Rachel Weisz) to establish the truth about a family tragedy that haunts her, or will he be dismissed, discredited and disgraced?
There's a frostiness about Page Eight that never quite warms up. At first, it's coolly stylish with some magnificent one-liners (Johnny asks his artist daughter, 'Why do you want to piss on life before you've lived it?') but a feel that is mostly unemotional and oddly inconsequential. Nighy is believably world-worn, Weisz tender and vulnerable, while Gambon supplies the same charmingly avuncular wiliness that he brought to Albus Dumbledore for so many years. 'Things are so bad I got home last night and watched The X-Factor,' he remarks at one point.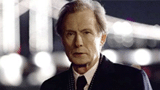 However, it isn't until Barron dies that some meaning is brought to proceedings and although it's still wintry – the winding, empty roads surrounding by bare trees and desolate fields along which Johnny drives up and down the country represent what little there is left for him at MI5 in the new world order – there is at least a spark of liveliness to propel the plot forwards.
The imagery remains remarkable throughout (there's a beautifully blurry vision of central London at night, soundtracked by the shipping forecast, and anyone who's ever had a cigarette in their mouth will ache a little at the surfeit of smoking scenes in the cold dark of a winter evening where the smoke billows around the smoker like clouds of warm, cancerous reassurance) and the story moves through the personal and political worlds that Johnny inhabits with aplomb until the final reel, where it loses its way and never quite gets back on track.
There is, at last, an emotional charge to proceedings that the opening lacks, but there's more energy than activity and the resolution doesn't quite ring true. Worse, the previously cliché-free screenplay drops a few clangers into the lap of Nancy Pierpan. Weisz is forced first to coo, 'Try and stop me!' in response to Johnny's request for company and then trample all over the last great line in the script – 'I'm frightened,' Johnny says near the end, 'I fuck everything up' – by shushing and kissing him. Oh dear.
This feels like a pre-coalition drama – Beasley is more a shabby Tony Blair than a rugged David Cameron, even if Ralph Fiennes seems to have based his voice on the latter – but the notion of a British Prime Minister kowtowing to the Americans at the expense of his own people is one that remains resonant in 2011, and this enduring topicality more than makes up for the use of what is essentially an old-fashioned espionage trope as the central theme: the lone wolf agent battling for truth against a corrupt (or at least, complicit) regime.
The excellent cast add depth and texture and although this icy drama reveals a few flaws when it thaws, it never loses its appeal.

Airs at 9pm on Sunday 28th August 2011 on BBC Two.