Even scarier than the first two episodes, this third instalment of BBC One's new supernatural drama surrounds the actions of a troubled lad and the all important harvest on which the village of Shepzoy depends.
Thanks to a helpful pre-credits catch up, as Nathan (Colin Morgan) strolls across his wheat field, we are reminded that all is not well; with the death of Charlie weighing heavily, he suffers a public denouncement from the lad's mother as she and the remaining family move on.
Meanwhile, in her new role as farm manager, it is Charlotte (Charlotte Spencer) who decides when to bring in the wheat crop and her decision to wait a further day proves disastrous in this instance, thanks to a beetle infestation.
Of course, superstitious folk being what they are, attention focuses on an erratic young man called Peter (Robert Emms). Hearing voices, his odd behaviour arouses suspicion in a community looking for someone to blame and he promptly becomes a scapegoat for the 'cursed' harvest.
Peter's voices lead him to an abandoned mill house, the site of another injustice in the village's bloody and unfortunate history, and they also instruct him that his mother, Maud (Elizabeth Berrington), must be sacrificed.
This is another beautifully directed episode from Alice Troughton (Merlin), with palpable tension from the start and a striking musical score too, including a deeply unsettling, mournful folk song called 'The Reaper's Ghost' which bookends the story.
Making good on Charlotte's former profession as a photographer, there are some beautifully creepy scenes in the mill house as she takes a shot and later develops it to discover a half-formed spectral figure in a doorway.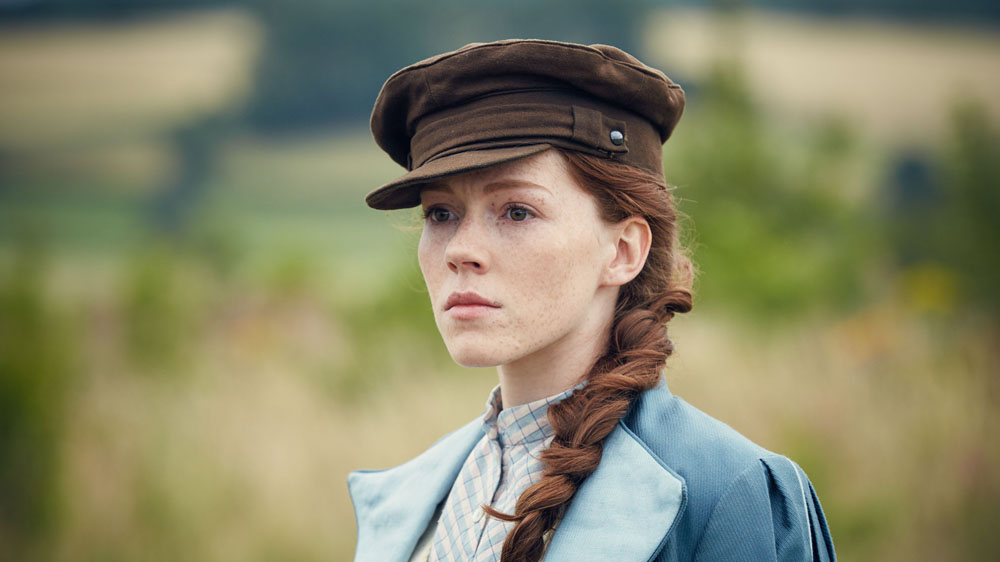 With the harvest in trouble, her crisis of confidence feels spot on; as is pointed out, Charlotte is book smart but lacking in any practical farming experience. That said, we enjoyed the creative method employed to deal with the crop infestation – even if there may have been a little licence used the number of smokers needed to cleanse the entire crop.
As the troubled Peter, guest star Robert Emms (Atlantis, Happy Valley) easily convinces as the innocent bedevilled by an insidious voice, yet at the same time conveys enough ambiguity to have us believe that he is capable of acting on its murderous instruction.
From dead fish in the pond to the beetle infested crop, this manifestation seems to go further than the previous two, having physical effects on the environment. Although he resolves this mystery, there is an air of escalating menace as the series continues and Nathan seems well on the way to being a true believer.

Available on BBC iPlayer now and airs at 9pm on Tuesday 12 July 2016 on BBC One.
> Like The Living and the Dead on Facebook.
What do you think of the episode? Let us know below…