Taking us from the village into the nearby forest, this week's episode plays on our expectations and provides a thoroughly a rotten harvest time for the residents of Shepzoy.
After his attempt at a witch ducking last time, in a misguided attempt to prove the wheat harvest had been cursed, Jack Langtree (Joel Gilman) was banished by Nathan Appleby. However, it transpires he only went as far as the local forest where we find him living rough and accosting the local schoolmistress.
Walking bewildered into the village, Martha (Fiona O'Shaughnessy) has no memory of the attack and so, taking his responsibilities towards law and order seriously, Nathan (Colin Morgan) persuades her to the scene of the crime in an effort to unlock the memories. His decision is highly unpopular with Charlotte (Charlotte Spencer), especially as there has been sabotage to the farm's wagons and she is stuck for a way to get their vital crops to market.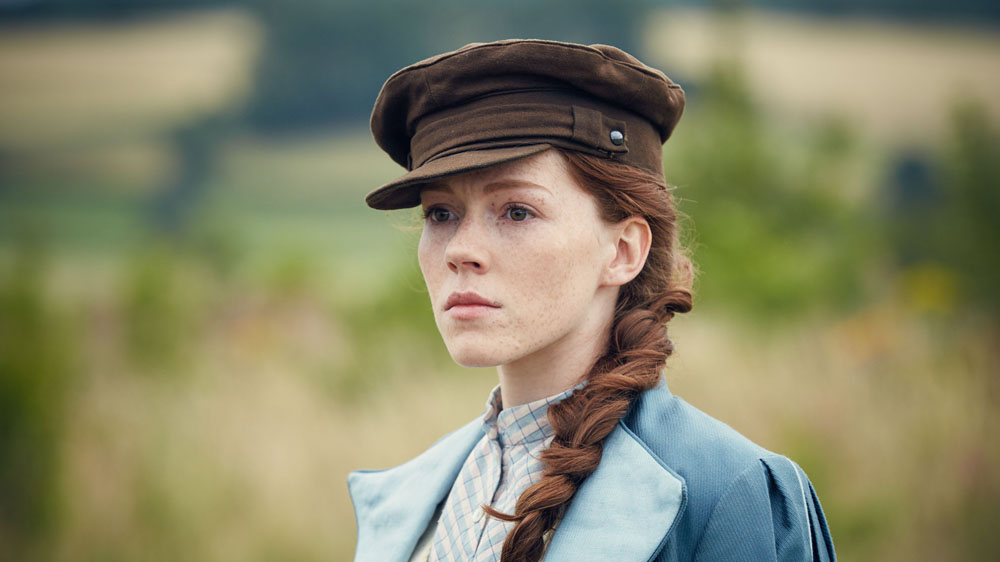 For her part, Charlotte reaches out to their dashing neighbour William Payne (David Oakes) who not only provides wagons, but a band of armed men when Nathan returns from the forest with a dead girl. He also has llamas, which made for a wonderfully incongruous introduction and our gut feeling says Charlotte has made a sound ally there.
Taking over as director for the second half of the series, Sam Donovan makes his mark with a beautiful but oppressive forest including some terrific overhead hosts which really helped to build a sense of scale. Building on earlier episodes, scenes around the farm remain picturesque while the farmhouse maintains its creepy charm.
Ever equipped with a homespun remedy and a saying, this week we loved housekeeper Gwen's wisdom after seeing her mistress be sick, after satisfying a craving for a pickled egg, as she uttered "Better an empty house than an angry tenant". We are not sure whether Gwen is immune to matters spiritual or in league with them, but either way she was the hero of the hour this week with her shotgun and deserving of a generous pay rise!
Obsessed, Nathan's pursuit of the darker forces plaguing the village has become overt; attempting to make contact via ouija board to determine the meaning of his last encounter with restless spirit Clarity Winlove and her pronouncement on his unborn child. This foray into the occult, rather than just being on the receiving end of spiritual shenanigans not only provoked the condemnation of Reverend Dennings but some serious marital strife too.
With only two episodes to go, this felt like a further escalation in tension and we were pleased to see the wider story pushed forward with the return of that incongruous tablet, this time on the table in the study and accompanied by a voice seemingly listing names of the dead.
As the tablet's owner pulled up in her car at the end, it looks as though answers may be forthcoming very soon – and it is fair to say we can't wait!

Available on BBC iPlayer now and airs at 9pm on Tuesday 19 July 2016 on BBC One.
> Like The Living and the Dead on Facebook.
What do you think of the episode? Let us know below…