ITV's gorgeous new series, Victoria, begins when a young woman (Jenna Coleman – and it did take me a few minutes to adjust to the fact that her eyes aren't normally that colour) wakes up to find herself queen, and does so with the grace and strength one would expect.
The moment, it would seem, has been prepared for.
Sometimes, the simplest of things will bring me the most delight.  The fact that the newly-minted monarch receives news of her uncle's passing with a precious little puppy by her side was one such instance.  So cute!
But I digress.  Hey, Rufus Sewell's in this, being Lord Melbourne!  He seems like a nice fellow, and his exchanges with Victoria are nothing short of adorable.  Sir John Conroy (Paul Rhys), meanwhile, is a decidedly unpleasant mansplaining fart, and it's highly satisfying viewing indeed watching young Victoria take absolutely no guff from him – or, for that matter, her mother.
Meanwhile, the palace staff engage in a disagreement about the candles, and Mrs. Jenkins (Torchwood star Eve Myles)' new young assistant gives Victoria a super cute new hairstyle.  I wish I could get my hair to go like that, but sadly I don't have hair servants.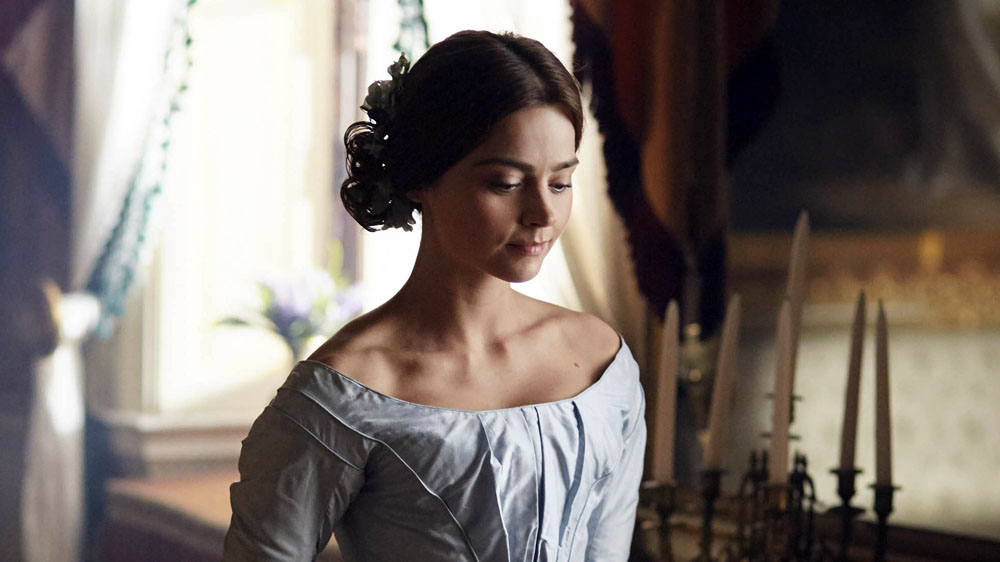 Also meanwhile, I know this sort of thing – historical drama, that is – is based on actual fact and the realities of the era, but already I find myself getting grumpy at the sorts of numpties pushing for a regency.  How ludicrous to blame someone for the death of somebody else who clearly already had an inoperable tumour.  But that's politics for you, and emotion, and ambition.  Gross.
But what's so, so lovely throughout this first episode is the friendship between Victoria and Melbourne.
I guess one of my favourite things on a Sunday night is watching two people express mutual support, respect, and admiration for one another.  It's so heartwarming, and makes me extra worried for the fact that they appear to have a disagreement in future, if the Next Time teaser is any indication (yep, we'll be keeping ourselves – and these reviews – free of 180-year-old real-life spoilers).
Say it isn't so, guys!

Aired at 9pm on Sunday 28 August 2016 on ITV.
Order Victoria on DVD on Amazon here.
What did you think of this week's episode? Let us know below…