Arriving at the BBC's studio in Cardiff Bay on a grey October morning, it's hard to feel festive.
There is, however, something quite enchanting about the sets of Doctor Who's Christmas special, 'Last Christmas', that immediately catapults one's mood into a lofty snowbank of holiday cheer.
CultBox were on set on the last day of filming to get a glimpse of the Christmas magic in action, as well as to speak to members of the episode's guest cast. It becomes fairly obvious, if we hadn't known already, that there's a decidedly super-Christmassy angle to this year's special, as guest actor Nathan McMullen (Misfits) is sat opposite me in what are most definitely, and without a doubt, elf ears.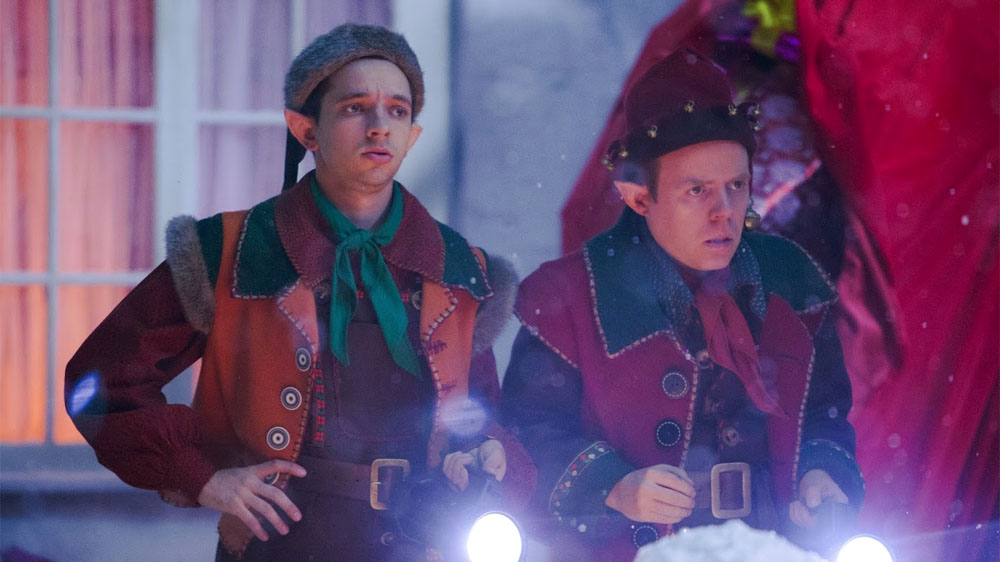 McMullen, along with Dan Starkey – his lovely face uncharacteristically unencumbered by the usual Sontaran prosthetics he wears as Strax, the recurring Doctor Who role he is most known for – will be appearing as a pair of elves working with none other than Santa himself, played by Spaced star Nick Frost.
"I think they've got quite a strong relationship, you know, they work together as a team. It's not so much 'I am the boss and this is what I say,' I think the way conversations go, they're in it as a team," McMullen says of his character and his festive colleagues.
Starkey, meanwhile, enthused about the quality of the script: "It was great, there's lots of nice interplay between Santa and the elves, and also the Doctor."
While Starkey is now a seasoned Doctor Who veteran – indeed, this year marks his third consecutive Christmas appearance – what was McMullen's experience of working on Doctor Who for the first time?
"Really memorable," he says, beaming. "Before I started filming, I'd spoken to a few friends and actors, and told them about this job I was going onto, and it makes me laugh now because everyone I've spoken to, there was a little hint of jealousy, you know?"
I do know: having had an opportunity to visit the episode's beautiful sets – which include a classic Christmas rooftop complete with sleigh, presents, and strewn with tangerines, as well as a dark and atmospheric polar base, besieged by horrors, and the gorgeous TARDIS console room itself – and see the filming of scenes featuring one of the dangerous Dream Crabs, I can't help but marvel at both the creatures' beautifully grotesque design and the ingenious way in which it is brought to life by a member of the crew.
Continued on Page 2…