The BBC released a new image from Doctor Who Series 11 and information about  the first two episodes.
Episode One – The Woman Who Fell To Earth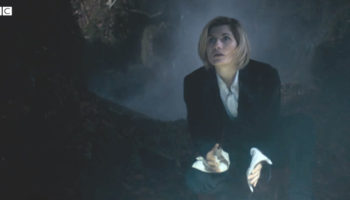 "We don't get aliens in Sheffield." In a South Yorkshire city, Ryan Sinclair, Yasmin Khan and Graham O'Brien are about to have their lives changed forever, as a mysterious woman, unable to remember her own name, falls from the night sky. Can they believe a word she says? And can she help solve the strange events taking place across the city?
Guest starring Sharon D Clarke, Jonny Dixon and Samuel Oatley. Written by Chris Chibnall and directed by Jamie Childs.
Sharon D Clarke is playing Grace, the wife of Bradley Walsh's character Graham O'Brien.
Samuel Oatley is playing a character called The Warrior.
#DoctorWho casting info: Samuel Oatley is The Warrior in a block 1 episode @CultBoxTV @GirlyLetters pic.twitter.com/39nVFD0JLM

— Ruther (@Ruther2) January 8, 2018

Episode Two – The Ghost Monument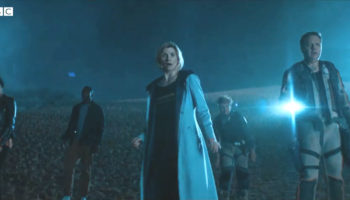 Still reeling from their first encounter, can the Doctor and her new friends stay alive long enough, in a hostile alien environment , to solve the mystery of Desolation? And just who are Angstrom and Epzo?
Guest starring Shaun Dooley, Susan Lynch and Art Malik. Written by Chris Chibnall and directed by Mark Tonderai.
Mark Tonderai filmed footage for The Ghost Monument and the third episode of the series in South Africa.
Shaun Dooley was spotted in two scenes in the Series 11 trailer.
Chris Chibnall explained what you can expect in for Series 11:
"You can expect emotion, you can expect action and adventure and monsters and far ­off planets and huge alien vistas. You can expect a lot of humour, a lot of warmth and some great characters.

Four great new friends for you to meet as they go through past, present and future and meet some incredible people from history and go and battle on alien planets and fight threats closer to home.

It's really a whole array of different stories. Ten individual stories that show off the range of the Thirteenth Doctor and her friends but also of the show as a whole. I hope you can expect everything you've ever loved about Doctor Who."
Doctor Who returns to television October 7 with The Woman Who Fell to Earth.