The crew of The Orville is joined by some new faces as they face 'New Horizons'. 
It's been a long time coming, as the show was renewed in May 2019, but the new season of The Orville is now mere months away.
Across a ten-episode third season, the crew of the Orville will continue their mission, "as they navigate both the mysteries of the universe and the complexities of their own interpersonal relationships."
Across its first two seasons, the show shifted from an affectionate Star Trek: The Next Generation parody (with some crude jokes) to something that found its own tone at a time when the likes of Star Trek: Discovery was doing something quite different.
On its return, after close to three years, the show has a new home at Hulu and a new title: The Orville: New Horizons. They dropped a little teaser in September, with audio clips from the new run:
The established crew are all returning led by Captain Ed Mercer (series creator and executive producer Seth MacFarlane) and his First Officer/ex-wife/on-and-off love interest Commander Kelly Grayson (Adrianne Palicki). Plus there's Gordon Malloy (Scott Grimes), Dr. Finn (Penny Johnson Jerald), Lt. Cmdr Bortus (Peter Macon), John LaMarr (J. Lee), Issac (Mark Jackson), Klyden (Chad L. Coleman), Lt. Talla Keyali (Jessica Szohr) and the late Norm Macdonald as Yaphit.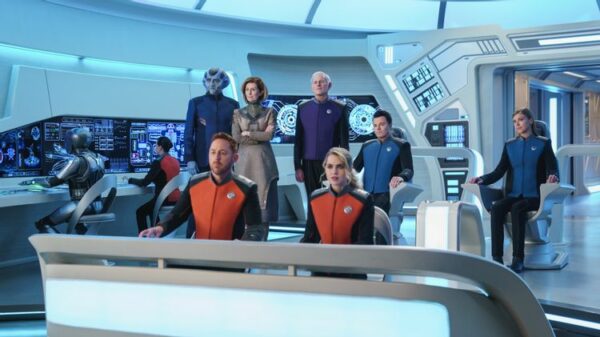 In the teaser image, we can also spot Victor Garber as Admiral Halsey, with a couple of new faces; Babylon 5's Bruce Boxleitner will play President Alcuzan with the late Lisa Banes as Senator Balask. Additionally pictured is Ensign Charly Burke, played by Anne Winters (13 Reasons Why), a new crewmember joining the team.
Eliza Taylor (The 100) appears in the new run too and, given the form of the first two seasons, we're expecting a number of high profile guests too.
Where to watch The Orville Season 3
The Orville: New Horizons returns on Thursday 10th March 2022, with weekly episodes available exclusively on Hulu.
In the UK, the show has aired on Fox but the channel has gone now. The first two seasons are on Disney+, so we expect new episodes will be made available there. Unless they agree a linear broadcast deal first elsewhere first.
Obviously, if we hear anything, we'll keep you posted.