Jamie Dornan leads the six-part amnesiac thriller which begins on New Year's Day. 
Ahead of the premiere for The Tourist, BBC One's big new thriller, the cast and writers have spoken about the project.
We brought you first-look images in May, but there's been a trailer and a full synopsis since then. Now the show is upon us… where did the year go?
In the glowing red heart of the Australian outback, we're outside a quiet and lonely-looking gas station. The Man refuels his car. As he pulls away, he realizes he's being pursued. He can't see who it is. All he can see is the vast tank truck bearing down at him. Trying to drive him off the road. The epic cat and mouse chase ends with the man tumbling off a ridge in his car. When he wakes from his accident, he's in hospital. Somehow, he's alive. Hurt, but alive.
Except he has no idea who he is.
Not long after is when we meet local beat cop Helen, an earnest and eager to please woman locked in a constant battle with her weight and her own self-confidence. She's sent to check in on The Man and though there are no clues about his identity she promises to help figure out who he is. It's not her job, but she can't help herself but be intrigued by this lost soul. Much to the frustration of quietly controlling fiancée. A clue from the crash leads The Man to a run-down diner, where he meets Luci, a waitress working there.
But soon catastrophe hits again, and only blind dumb luck sees the two of them emerge unscathed. Meanwhile, we meet Lachlan Rogers, a matter-of-fact detective inspector who's been called out to investigate, and inevitably his questions come to focus on The Man. But it's not just Lachlan who is looking for The Man. What does the mysterious American, Billy, want with The Man?
Two Brothers
The Tourist is written and executive produced by Jack and Harry Williams of Two Brothers Pictures. The pair have a string of high profile shows to their name, including The Missing, Rellik, Baptiste and a host of thrillers for ITV.
Looking for a new angle, Jack Williams talks about the genesis of the project:
"Our goal was to try and do something different. We've written a lot of thrillers, but we felt that in writing this, we wanted to challenge ourselves and do something tonal, structural, and cinematic. Everything grew from that. We tackled big themes, to do with identity and working out who you are, which is very resonant on a lot of levels with a lot of people. I don't think many people have woken up and had no recollection of who they were. But I think a lot of people struggle trying to work out, 'What kind of person am I?'."
Meanwhile, Harry Williams considers what he hopes viewers will get from the show:
"I hope that its uniqueness and constant shifting in tone is of itself a constant surprise and will be the thing that intrigues audiences. As it's a world where you don't know what happens next and that's the main reason to tune in. The best shows for me are the ones where you keep talking about it. I hope it stays alive in their minds and that people talk about it."
The Man
For his part, star Jamie Dornan – who plays The Man – talks about the theme of the show:
"At the heart, this is a cat and mouse thriller, and one man's darkly comic journey of self-discovery. But there's definitely love going on here, there's fear, hate, revenge, remorse, it's all in there! It is a real stew of themes and emotions and that's why it's been a testing, all encompassing, all hands on deck shoot. It's been incredible, every department, what they've had to step up and do on this job."
Dornan also reveals what attracted him to The Tourist:
"I'm always looking for a challenge in my work, and it has been a mighty challenge! But I think what really swung it for me was I watched Back to Life, which was a series that Harry and Jack Williams had produced, and Chris Sweeney had directed back in the UK. I just loved it and tonally that show goes from extreme sadness and some very peculiar things happening that are quite jarring, to something very funny on the turn of a dime."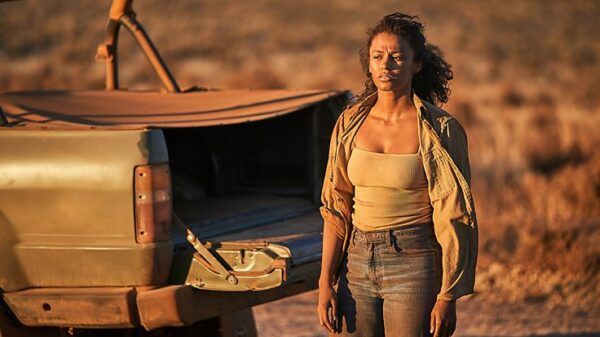 Wider Cast
Also in the cast of The Tourist are Danielle Macdonald, Shalom Brune-Franklin (Line of Duty), Damon Herriman (The Serpent) and Ólafur Darri Ólafsson.
Shalom Brune-Franklin talked about her favourite scenes to film:
"One of the first days of filming we had a 10-page scene – it's really interesting because one person is trying to seek the truth and the other person is trying to hide it, and so it was very fun to play with that dynamic.
Filming the dust storm scene was great and very intense – it was a fun day, but perhaps a lot tougher for everyone else in the crew than it was for me, as I could hide in the truck bed!"
Many of the cast talk about the show's dark humour, so we predict this will be quite a ride. We love tag line too: "What he doesn't know could kill him."
The Tourist is a Two Brothers Pictures (an all3media company) production for the BBC, in association with Highview Productions, All3Media International, the South Australian Film Corporation, HBO Max, Stan and ZDF.
It begins on BBC One & BBC iPlayer at 9pm, New Years Day. The second episode follows on Sunday 2nd January at the same time –  falling into what we assume is a weekly pattern from there on in.