What has to be one of the most iconic images released for Doctor Who Series 11 wasn't taken by the local photographer hired for for the filming block shot in South Africa.
According to Doctor Who Magazine 534, the above famous silhouette photo of the thirteenth Doctor and her TARDIS was taken by actor Shaun Dooley, who played the role of Epzo in the second episode of Series 11, The Ghost Monument.
Even aliens do selfies! #DoctorWho #theghostmonument pic.twitter.com/YNkgwmoMmT

— Shaun Dooley (@shaundooley) October 14, 2018

In an interview with the magazine, Shaun Dooley describes how he took the photo on Paarl Rock, a granite outcrop on Paarl Mountain in South Africa after filming a scene for The Ghost Monument with the TARDIS while the sun was setting.
"We recorded the scene ‒ all really rushed because the sun was setting and we were losing the light ‒ and as we were packing up to leave the top of the mountain, I saw the South African boom op, I think it was, walking past and he was really beautifully backlit at the top of this big rock.

I've taken a lot of pictures in my life in silhouette with back lighting ‒ I really love that sort of thing ‒ so I was like 'Jodie, Jodie, Jodie, go and stand up there.' I got her to face sideways, facing out to my right. I don't normally get this, but it was a really odd moment where I knew I was going to get the shot I wanted. I felt a wind coming up from the side and I said to Jodie, 'Keep looking that way. Don't move.' The wind came up and just lifted her coat. I went click on my iPhone, and I was like, 'I've got it!' It was a beautiful, perfect moment. I showed Jodie the photo and she was like, 'Oh wow.'"
The unit stills photographer for the South Africa shoot, which included The Ghost Monument and Rosa, is Coco Van Oppens, a South African who took some breathtaking photos from the filming. But it was Shaun Dooley who took the famous photo above.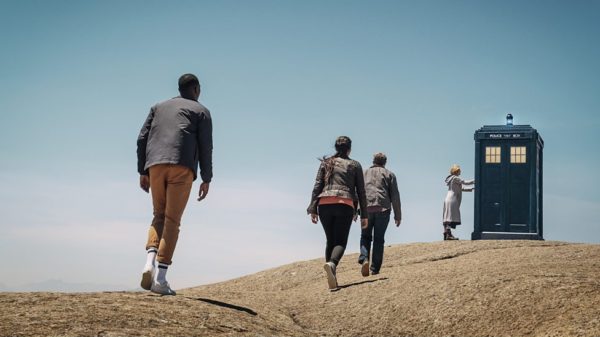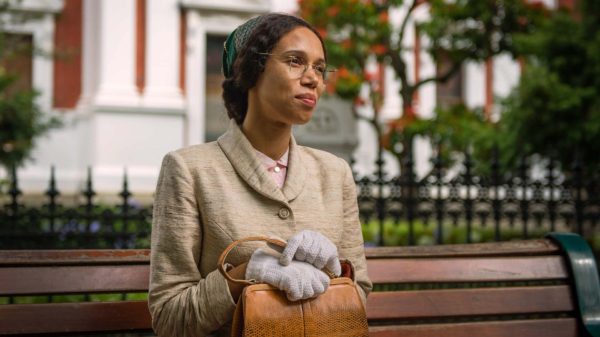 Doctor Who Magazine 534 is available on Newsstands and in digital editions Thursday, January 10.