As part of the BBC's Shakespeare season, former Doctor Who showrunner Russell T Davies has adapted A Midsummer Night's Dream for BBC One.
The 90-minute TV adaptation of William Shakespeare's classic play stars Maxine Peake (Silk) as Titania, Matt Lucas (Little Britain) as Bottom, John Hannah (Atlantis) as Theseus, Eleanor Matsuura (Spooks) as Hippolyta and Hiran Abeysekera (Lion In The Tent) as Puck.
Bernard Cribbins (Wilf in Doctor Who) will play Snout, while Merlin actor Richard Wilson will play Starveling.
The cast also includes Fisayo Akinade (Cucumber) as Flute, alongside Elaine Paige (Sweeney Todd) as Mistress Quince, Javone Prince (Horrible Histories) as Snug Prisca Bakare as Hermia, Paapa Essiedu as Demetrius, Kate Kennedy as Helena and Matthew Tennyson as Lysander.
It's a long, dark night in the forest of Athens, and the trouble is only just beginning…
In the tyrannical court of Athens, the pitiless dictator Theseus plans his wedding to Hippolyta, a prisoner of war, and young Hermia is sentenced to death by her own father. Meanwhile, in the town below, amateur theatre group the Mechanicals rehearse, with all their comic rivalries. And beyond Athens, in the wild woods, dark forces are stirring…
A Midsummer Night's Dream airs at 8.30pm on Monday 30 May on BBC One.
Here Russell T Davies chats about his new adaptation…
How did the adaptation come about? 
"I've wanted to make this for around 30-40 years, I've been dying to do it! I was in a version of A Midsummer Night's Dream when I was 11 years old, playing Bottom.  I loved it and it really opened my eyes to what drama is.
"We had such a laugh and I've loved the play ever since then, it's the perfect play.  For years I've thought, one day I will do it on television, I will do it with an all-star cast, and I will do it for everyone."
Why A Midsummer Night's Dream in particular?
"So many people have a personal experience of it, like I do, a memory from their childhood of it, and that's what we're tapping in to. It's also such a fun play, although some of it is very wise it's also got fairies and magic and a character called Bottom in it, that's why children love it! And it has such vivid characters in it too.
"It's also one of the few Shakespeare plays with actual overt visible magic in it, which makes it tremendously visual and is why there are so many versions of it. It's a magnet for not just writers and actors but designers as well."
Tell us about the process of adapting it? 
"I have been thinking about how to adapt this play and what to do with it for decades, especially the interpretation of Theseus. I've had a long time to get the text ready in that way, so when it actually came to writing the script it only took a few weeks because I was so certain of what I wanted to do already.
"I'm happy to reinvent this material, because that's been the process for hundreds of years.  That's what fiction does, change.  Shakespeare famously sourced his stuff from all sorts of myths and legends and masques.  For example, in A Midsummer Night's Dream, we get the story of Pyramus and Thisbe.
"That's an ancient yarn, originally told by Ovid.   A tragedy of two dead lovers.  And what did Shakespeare do with that sacred text?  He turned it into a farce!  And the story's had an extra 400 years of life as a result.  It's the same with Hippolyta – Shakespeare made her simply Queen of the Amazons.
"But in my version, from the very first scene, there's clearly something supernatural about her – and that's not a new invention, that's going way back, to the myths before Shakespeare, when Hippolyta was the daughter of Ares, God of War.  You see?  These things are always changing.  If you don't change, you die."
Have you faced any challenges adapting it? 
"This is a very faithful version, it's not a modern translation with MC Bottom putting on a rap, it's the real play with the real words and the original text.  So that was the challenge, to get across that we're not throwing the baby out of the bath water.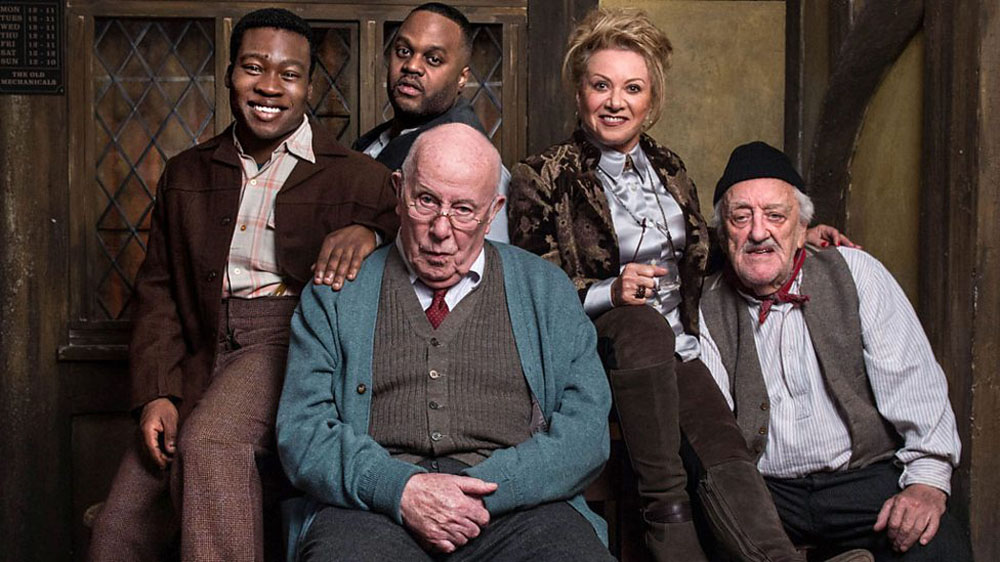 "It's a beautiful old strong play that has survived for 400 years, it will survive me and it will survive all of us. This is our take on it in 2016 and there are dozens of other versions and takes on it going on right now across the country."
What do you want viewers to take away from your version?
"The one thing I would like people to take away from this production of A Midsummer Night's Dream is a love of Shakespeare. My own love of Shakespeare has nourished me for decades and it's vital.
"We've got great actors and great CGI that people will enjoy, but I hope there will be people out there who watch it and think "oh isn't Shakespeare marvellous", or even better they might be like me and think "I could make my version of that."
"It encourages creativity that you can take any Shakespeare play and do what you want to it and it will still survive. So that's what I want to instil. It can sometimes be hard to drag people to Shakespeare and it can be hard to read, but it can be brought to life beautifully and that's what I want to do."
Are you looking forward to A Midsummer Night's Dream? Let us know below…