Good Omens 2 has been greenlit, with David Tennant and Michael Sheen reprising their roles as the Demon Crowley and the Angel Aziraphale.
While the first, six-part season of the comic fantasy adapted the original 1990 novel by Neil Gaiman and the late Terry Pratchett, the second will go further and draw on plans for an unwritten sequel.
Writing on his blog, Neil Gaiman explains "…we plotted the sequel to Good Omens. It was a good one, too. We fully intended to write it, whenever we next had three or four months free. Only I went to live in America and Terry stayed in the UK, and after Good Omens was published Sandman became SANDMAN and Discworld became DISCWORLD™ and there wasn't ever a good time. But we never forgot it."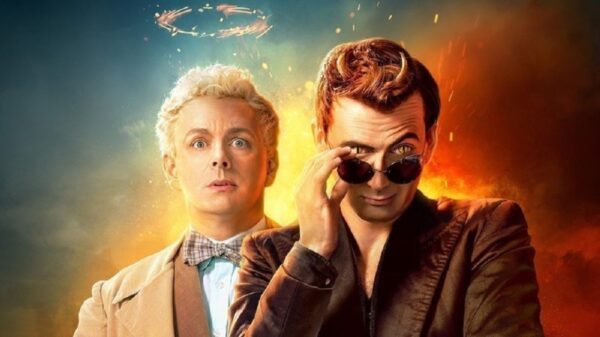 Season 2
Amazon Studios say: The new season will explore storylines that go beyond the original source material to illuminate the uncanny friendship between Aziraphale, a fussy angel and rare book dealer, and the fast-living demon Crowley.  Having been on Earth since The Beginning and with the Apocalypse thwarted, Aziraphale and Crowley are getting back to easy living amongst mortals in London's Soho when an unexpected messenger presents a surprising mystery.
Joining Neil Gaiman to co-write the new episodes is John Finnemore, best known for his extensive BBC Radio comedy work (including the excellent Cabin Pressure starring Benedict Cumberbatch). Douglas Mackinnon (Doctor Who, Sherlock) returns as Director.
Good Omens 2 will begin filming later this year in Scotland and will premiere on Amazon Prime Video. Doubtless, it will come to the BBC a few months later. It is a co-production between Amazon Studios, BBC Studios Productions, The Blank Corporation and Narrativia. Neil Gaiman continues co-showrunner along with Douglas Mackinnon. Both will executive produce, as well as Rob Wilkins, John Finnemore and BBC Studios Productions' Head of Comedy Josh Cole.
While the first season boasted some stellar casting, including John Hamm, Nick Offerman, Miranda Richardson, Anna Maxwell Martin and Frances McDormand as the voice of God, no further details are forthcoming at this point.
As ever, CultBox will keep you posted.