Jodie Whittaker explained John Bishop's role as Dan Lewis in Doctor Who: Flux to Inside Soap magazine.
"Both Dan and the Doctor are on the precipice of something huge, personally. In Dan, you have someone who, at the beginning, is just trying to keep up, but in doing so becomes the accidental hero of the story. Dan's quite childlike in a lot of ways, in a way the Doctor really loves."
John Bishop described Liverpool plasterer Dan in a BBC press release:
"I liked his humility, his willingness to help people, when we first start off he is working in a food bank. I liked his vulnerability, he's not really lucky in love, I liked his caring nature because he cares deeply for the Doctor and Yaz and wants them to be happy. I liked his sense of what's right and what's wrong. He's really prepared to stand up to those who are doing something wrong."
Bishop spoke of the potential universal-destroying catastrophe known as the Flux to Inside Soap magazine.
"[Doctor Who: Flux] is going to take viewers on an incredible journey. When I read the scripts, there are scenes in [The Halloween Apocalypse] that I thought were the height of heights, but then you follow the arc of the story and realize that was nothing; just the starting point. Everyone is in for a real ride."
Bishop described a typical surreal on-set experience to TV Times magazine.
"You're there with somebody who's got an alien's head, who's having a cup of tea through a straw and talking about what to watch on the telly, when minutes before they were threatening the end of the universe and sucking the life out of you!"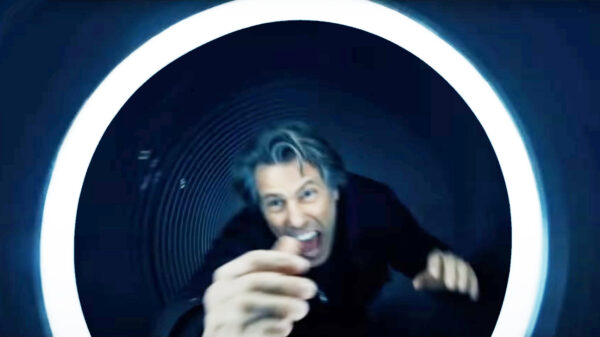 How did Bishop land the role? He described the audition process to Entertainment Weekly in his typical comedic fashion.
"The first part of the audition I was in London. Normally I'd have been in a room with people, but nobody was being in rooms with people [due to the pandemic], so I got my mobile phone and I [stuck] it to the wall and I did an audition to my phone with the casting director and Chris [Chibnall, showrunner] and a few other people on the line. What they don't know is, the script that I had to learn, I'd [stuck] that to the wall as well. I got through that stage and then I had to go down to Cardiff and do [a chemistry] audition on the set with Jodie [Whittaker]. So I had to go on to the TARDIS and do a number of scenes."
"I thought, if I get the job, it's a bonus, because I've been in the TARDIS anyway!," Bishop told TV & Satellite Week.
Jodie Whittaker explained why Doctor Who showrunner Chris Chibnall sought John Bishop for the role of Dan to Empire magazine:
"I think for Chris it's probably a real joy to write for [professional comedians]. You know, the way they naturally smash the rhythm of the dialogue. But as for being funny on set, I'd say me and Mandip are hilarious first and foremost, so John isn't necessarily the headline comedy act."
Producer Matt Strevens summed up John Bishop's contribution to Doctor Who in a BBC press release:
"John is just perfect in it and Dan is a glorious character – warm, funny, an action hero. It's seamless really. The moment John walked on the TARDIS he clicked with the other two and the team and it was like he had been on it forever."
Written by Chris Chibnall and directed by Jamie Magnus Stone, the first chapter of Doctor Who: Flux, The Halloween Apocalypse will will air 31 October on BBC One at 6:25pm BT and on BBC America at 2:25pm and 8pm ET.