The BBC has released a synopsis and partial cast and character list for the ninth episode of Doctor Who Series 12, Ascension of the Cybermen.
In the far future, the Doctor and her friends face a brutal battle across the farthest reaches of space to protect the last of the human race against the deadly Cybermen.
The aftermath of the Great CyberWar. The Doctor arrives in the far future, intent on protecting the last of the human race from the deadly Cybermen. But in the face of such a relentless enemy, has she put her best friends at risk? What terrors lie hiding in the depths of space, and what is Ko Sharmus?
Some character names were released:
Ravio: Julie Graham
Ashad: Patrick O'Kane (an IMDB listing mentions C-zel)
Feekat: Steve Toussaint
Also announced as cast in the two-part finale, which includes the tenth episode, The Timeless Children is Ian McElhinney. McElhinney was spotted filming Doctor Who at Nash Point in Wales on August 21.
Showrunner Chris Chibnall spoke of Ascension of the Cybermen in Doctor Who Magazine #548.
"Ascension of the Cybermen is set at the end of the great cyber war. This is a conflict that's reduced both the Cybermen and humanity to barely anything. It's the last remnants of the Cybermen against the last refugees of humanity in this corner of the universe. These refugees are on the run from the particularly relentless and ruthless Cybermen who are on their trail."
"They're relentless, single-minded and brutal That's the essence of their 'monster personality'. The nightmare is how do you escape them? Because they're around every corner and they just won't stop. The humans are desperate and the Cybermen just keep going."
"Ascension of the Cybermen is one of those episodes where the Doctor and her friends are all on the run from different threats. We head into the next episode with the jeopardy of whether they're ever going to meet up again…"
Cybermen were photographed during Doctor Who filming at Nash Point in Wales on August 22.
Chris Chibnall described Julie Graham's character Ravio as an "all action hero" in an interview with the Mirror.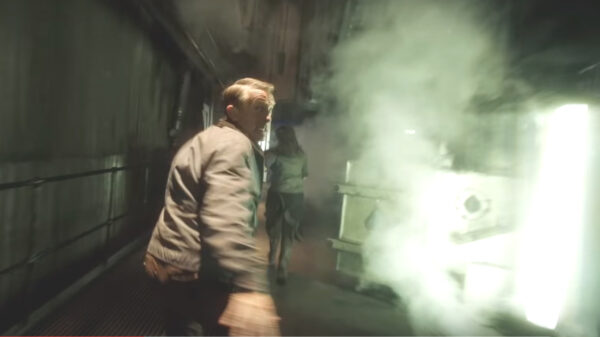 Written by Chris Chibnall and directed by Jamie Magnus Stone, Ascension of the Cybermen will air Sunday, February 23 at 7:10 p.m. on BBC One and 8:00 p.m. on BBC America.