In issue 549 of Doctor Who Magazine, costume designer Ray Holman describes how he put elements of past Doctors in the design for the costume of the Fugitive Doctor, introduced in a stunning reveal by Jo Martin in the Doctor Who Series 12 episode Fugitive of the Judoon.
"Because the first Doctor I ever designed properly – from head to foot – was Matt Smith, I wanted some kind of tweed. Both the waistcoat and the coat ended up being Scottish tweed. I was really happy with that. The coat was a period-cut coat, which is a nod to some of the older 'classic' series Doctors, too."
Holman humorously described how he made Jo Martin wear black boots and trousers like the twelfth Doctor.
"Jo wears them just like Peter [Capaldi] used to wear them. I made her. I said to Jo, 'Peter used to wear his boots with his black trousers like this.'"
"She's used to fighting, which is why the black trousers she's wearing are combats."
Holman explained how the rest of the costume-design elements are unique to the Fugitive Doctor.
"Originally I was going to put the whole outfit together with a 17th-century linen shirt. I went through the classic Doctors' shirts and thought, 'Nobody's ever done the frilled stand collar with the frill cuff s before.' Me and Nida [Manzoor], the director, were having a little chat and we both decided that, actually, it shouldn't be cream linen, it should be something that's representative of Jo."
"I did some research into Kente cloth, which is an African wax-print fabric, and ordered in a few different patterns. My Kente cloth samples arrived and a lot of them were quite green, which is a problem for a Doctor's costume because these clothes have to go against green screens. I have to choose colours that won't cause problems on camera. Eventually I found the Kente cloth pattern that we ended up using and it turned out to be the most vibrant fabric. It worked so well on Jo. She was thrilled with it."
But Holman wasn't finished. One more detail for the Fugitive Doctor was added once she was aboard her TARDIS. Once she put on her distinctive eyewear, her ensemble became even more brilliant.
"I knew I needed a pair of quirky glasses. I took Jo to a quirky optician that I know in Covent Garden. We both walked in, saw these yellow sunglasses and she went, 'Can we?' And I said, 'Yes, we so can! We're having them!'"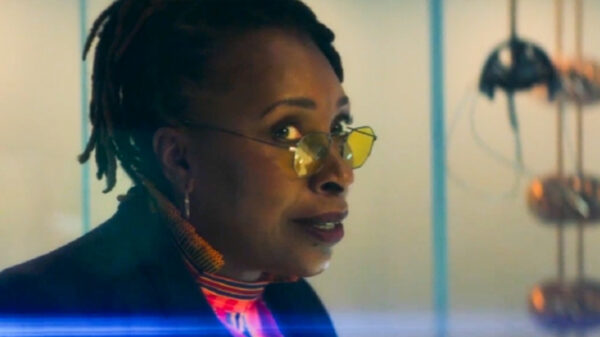 Doctor Who Magazine 549 is available at newsstands in the UK and online on Thursday, March 5.