In an exclusive interview with Doctor Who Magazine, showrunner Chris Chibnall discussed the writing and directing credits for Doctor Who: Flux.
Each of the six episodes of Flux are written by Chibnall, except episode four, which he co-wrote with The Haunting of Villa Diodati writer Maxine Alderton.
"She's brilliant," Chris Chibnall said of Alderton to the magazine. "We had some other really great writers scheduled, but a lot of our plans had to be altered. Partly because the new series is a serial, partly because there are less episodes and partly because of the turnaround."
There is no word yet on the plot of Episode 4 of Flux.
As we previously reported, Flux was divided between two directors; Jamie Magnus Stone (Episodes 1, 2 and 4) and Azhur Saleem (Episode 3, 5 and 6).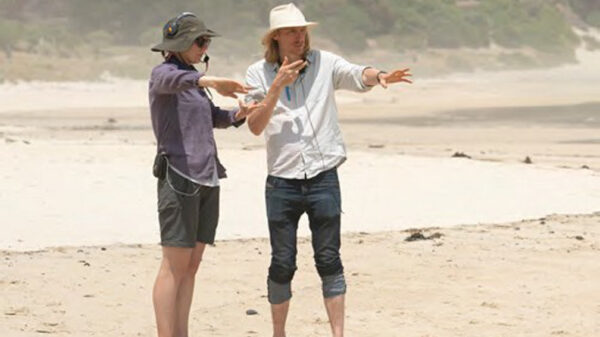 "He's great visually, great with action, great with humour and great with actors," Chris Chibnall said of Stone. "Everybody loves working with him and he's really in command of it. Asking him back was a no brainer."
Final thing, guy in the blue beanie was directing. pic.twitter.com/6Pc3e6fqXH

— Sebastian Boyle (@SebberTheGeek) March 23, 2021
"…Segun Akinola had written the score for a short film [Muse, 2020] that Azhur had directed and he said, 'You should see this guy, he's really talented.'," Chris Chibnall said of Saleem. "Azhur had been in line for the last series but we couldn't make it happen, so this year we asked him to do three episodes."
If the six episodes of Flux have subtitles, they were not revealed in Doctor Who Magazine.
"Coming from that sort of world, of dramas and feature films, it felt oddly more familiar, in a way," Jodie Whittaker said of the new six-episode, one-story format. "It's good to be able to go from a beginning and build up to the end. And a highlight for me is that you get to work with people over a longer period – they're not just here for one episode."
"This season is going to take you on a labyrinthine adventure," Jodie Whittaker further said of Flux to DWM. "The Doctor is going to find things out about herself and is going to face some of her biggest and oldest foes. And she won't be able to do any of that without Yaz and Dan standing by her side."
One scene of an unidentified episode of Flux was partly described by Chris Chibnall to DWM:
"One of the most difficult things we tried to do this year was to shoot a half-page scene in a bedroom, on location. It was impossible, because social distancing meant we couldn't get all the crew into such a small space."
An exclusive photo of the TARDIS on a battlefield, believed to be the Crimean War, was published in the magazine.
Day 16 of the '+KM Challenge' completed and got to see DR WHO!

Awesome to see exciting developments like this in Merthyr Tydfil @MovemberUKhttps://t.co/ddRCSQj83q@1Penydre @Hannah3Phillips @gavlarz30 @MissHoskyns @MattDavies4676 #MentalHealth #Movember #movember2020 pic.twitter.com/YYbA5lmV4D

— ICT@PYD (@PenydreICT) November 16, 2020
Another photo depicted a surrender scene of the Doctor, Yaz and Dan on the same battlefield.

We reported on these battle scenes shortly after they were filmed at Morlais Quarry in Merthyr Tydfil, Wales.
Some photos from Flux were recently released.
Flux will feature returning monsters the Sontarans, with a new design collaboration by costume designer Ray Holman and prosthetics designer Danny Marie Elias.
And Weeping Angels.
Spooky goings on outside the house tonight in Penarth. It's daylight at 8and a rather strange statue in the middle of the road.

Mmmm 🤔 I wonder what they're filming?? Could it possibly involve a Doctor. Who knows??

Good to see the film industry starting up again. pic.twitter.com/pr5fD7oVmr

— Workbench (@WorkbenchOffice) December 8, 2020
New monster designs by the pair will also be introduced in Flux.
NEW DOCTOR WHO SERIES 13 FILMING PICTURES TAKEN THIS MORNING! (Closer look from rory_studies on Instagram!) #doctorwho #dwsr #doctorwhonews pic.twitter.com/Q4nYs6b81C

— Joe Street (Confused Adipose) (@Joe_Street00937) April 24, 2021
Found the alien! 😱 #dwsr #DoctorWho pic.twitter.com/n0YYa92FPr

— Ross Flanagan (@RossFlanagan94) March 24, 2021
The first episode of Doctor Who: Flux will premiere on October 31, Halloween of 2021.
There will be three additional specials in 2022, airing on New Year's Day, spring, and a BBC centenary special in autumn which will be the last for Jodie Whittaker's thirteenth Doctor.
Doctor Who Magazine 570 Is available now in newsstands in the UK and by digital issue or subscription.