First broadcast in six weekly parts from March to April 1968, Fury from the Deep, the sixth serial from Season 5 of Doctor Who starring Patrick Troughton as the second Doctor will be released in animated form on DVD, Blu-ray and limited edition Steelbook in September.
No full episodes of this story exist within the BBC archives. However, off-air recordings of the soundtrack along with small bits of footage and still images exist to inform the animators.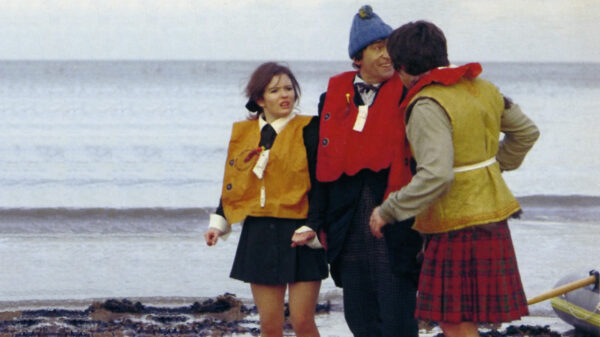 Along with Patrick Troughton, the episode stars Frazer Hines and Victoria Waterfield as companions Jamie McCrimmon and Victoria Waterfield. The Doctor's sonic screwdriver was first introduced in Fury from the Deep.
The BBC released a teaser for the animation:
The synopsis for the animated episode:
The TARDIS brings the Doctor, Victoria and Jamie to the Kent coast of England, where the ESGO complex is drawing up natural gas under the North Sea via a huge network of pipes linked to their off-shore rigs.
But the Doctor is convinced he can hear something in the pipes, a heartbeat, something… alive? Others at the complex have heard it too, and one by one contact with the rigs is being lost. But Chief Robson will have none of it, and work will continue. And so it does… until sentient, aggressive seaweed begins attacking the base and taking over the personnel one by one, creating a spearhead from which is will launch its attack and enslave the entire human race… Can the Doctor discover a way to stop the weed advancing? Or does the only real chance of success lie with Victoria and if it does, can a way be found to utilise that without harming one of the Doctor's very best friends…
The set includes:
• Animation Episodes 1-6 (Colour)
• Animation Episodes 1-6 (Black and White)
• Production Subtitles
• Audio Commentaries
• Surviving Footage
• Episode 6 Film Trims
• Episode 6 Behind The Scenes 8mm Footage
• Behind the Scenes
• Teaser Trailer
• Telesnap Reconstruction Episodes 1-6 with Optional Narration by Frazer Hines.
• Photo Gallery
• The Cruel Sea – Making Fury From The Deep
• Archive Interviews
• The Slide Audio Drama
• PDF Scripts
Our documentary THE CRUEL SEA follows @WhoFrazer, @MichaeleBriant and helicopter pilot 'Mad' Mike Smith as they revisit the unforgettable Red Sands sea fort! Also starring @mimosamargot, June Murphy, Brian Cullingford and archive of Hugh David, Victor Pemberton & Debbie Watling! pic.twitter.com/vAklkNzHd0

— Chris Chapman (@ChrisChapman81) August 3, 2020
The animated Doctor Who: Fury from the Deep will be released on September 14, 2020. It is available for pre-order on Amazon, HMV, Zoom and Zavvi.