In an interview posted on the BBC Media Centre, Jodie Whittaker spoke of the imposing actor playing one of the "terrifying monsters" in Episode 3 of Doctor Who Series 12 titled Orphan 55.
"I was actually really scared when I saw one of them, I bricked it. I proper bricked it. In rehearsal, he's like six foot seven, in a suit and he's running at you down a corridor and I was screaming. He's called Spencer, he's one of the Darth Vaders, and he's a bit of a legend on set."
Whittaker was speaking of Spencer Wilding, one of the two actors who embodied Darth Vader in Rogue One: A Star Wars Story. Wilding has also played Doctor Who creatures including Ice Warrior Skaldak.
Wilding was spotted out on the town with actress Gia Ré in Los Gigantes, Tenerife during Block 2 Doctor Who filming the first week of April 2019. Orphan 55 and Spyfall, Part 2 were filmed in Block 2, directed by Lee Haven Jones.
Mandip Gill spoke of Wilding as amazing:
"…there's one particular monster I think is really scary, and the guy playing him is amazing. He doesn't even need to act, you're in the dark, it's wet, it's cold and it's really scary!"
Tosin Cole also spoke of the monster:
"There's a monster that shall not be named, you're going to see my reaction, it breaks through the wall and you're going to see me jump and that jump is the most honest jump. I was actually scared – I knew it was going to happen but when it happened I didn't know it was going to happen like that. I was genuinely scared."

There was a large, scary monster which briefly turned up in the Series 12 and Orphan 55 trailer. The trailer seems to show the "ionic membrane" protecting Tranquility Spa.
The episode takes place at a luxury resort called Tranquility Spa. The exterior of the Auditorio de Tenerife in Santa Cruz, Tenerife was used represent Tranquility Spa.
Along with Jodie Whittaker, Bradley Walsh, Mandip Gill and Tosin Cole, Orphan 55 also guest stars James Buckley as Nevi
Laura Fraser guest stars as Kane. Fraser describes her character as "intense".
Will Austin guest stars as Vorm.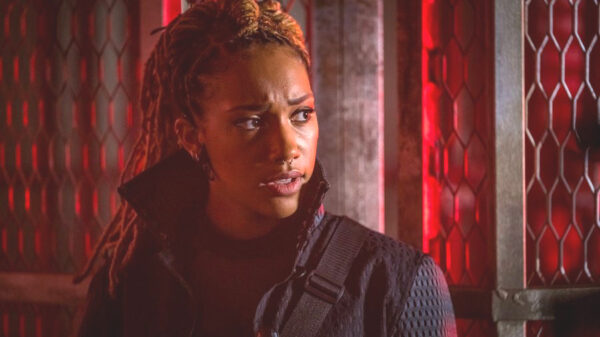 Gia Ré portrays Bella in Orphan 55. Ré was present at the filming in both Barry Island and Tenerife.
Col Farrell and Julia Foster portray Benni and Vilma.
Lewin Lloyd plays Sylas.
And Amy Booth-Steel plays a character called Hyph3n.
Written by Ed Hime, Orphan 55 airs on Sunday, January 12 at 7:10 p.m. on BBC One and 8:00 p.m. on BBC America.