The BBC and BBC America have both released trailers for the sixth episode of Doctor Who Series 12, Praxeus. Here is our breakdown, which also includes scenes from the Series 12 trailers.

First, the synopsis:
Across Peru, Madagascar and Hong Kong, the Doctor and friends face a deadly global threat.
What connects a missing astronaut in the Indian Ocean, birds behaving strangely in Peru and a US naval officer who washes up on a Madagascan beach? The Doctor, Yaz, Ryan and Graham split up to investigate these mysterious events across 21st-century planet Earth, but as the mystery deepens and lives are put at risk, they face a deadly race against time to save humanity.
The missing astronaut in the Indian Ocean:

Matthew McNulty plays astronaut Adam Lang. McNulty told TV & Satellite Week:
"My costume is the best one I've ever worn – and it becomes part of the story. When I tried it on, I couldn't believe what I was wearing. I've shown pictures to my kids and they love it. They only just recognized me."


Who somehow ends up on the TARDIS with the Doctor:

US naval officer Zach Olson washes up on a Madagascan beach.


Thapelo Maropefela as Aramu and Molly Harris as Suki cheng

Tristan de Beer plays US naval officer Zach Olsen
Birds behaving strangely: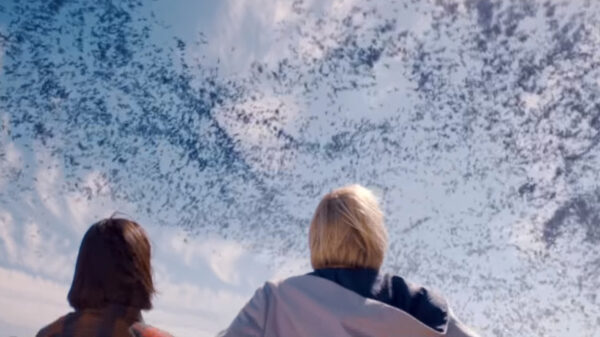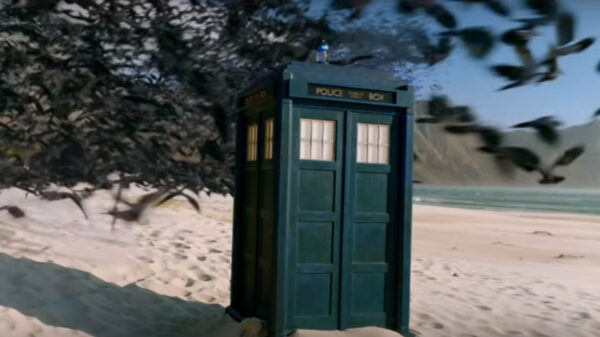 The gas mask creatures:

Jamila Velez succumbs to an alien conversion, as played by Gabriela Toloi.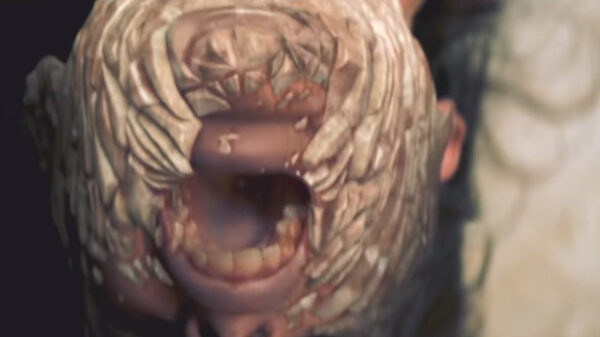 Toloi shared her excietment about her alien conversion, as translated from her tweet:
"I kept it secret for a year, but I can finally share it with everyone! Watch the new Doctor Who season to see my alien version! Also representing Brazil! I am the first Brazilian actress to be part of the series! It was amazing, I hope you all like it!"
Guardei segredo durante um ano, mas finalmente posso compartilhar com todos! Assistam a nova temporada de Doctor Who pra verem minha versão alien! Também representando o Brasil! Sou a primeira atriz brasileira a fazer parte da série! Foi incrível, espero que todos gostem! https://t.co/7GNEFk7uur

— Gabriela Toloi (@gabitoloi) January 26, 2020
More of Gabriela Toloi in a trash-strewn place.

Joana Borja plays young blogger Gabriela Camera.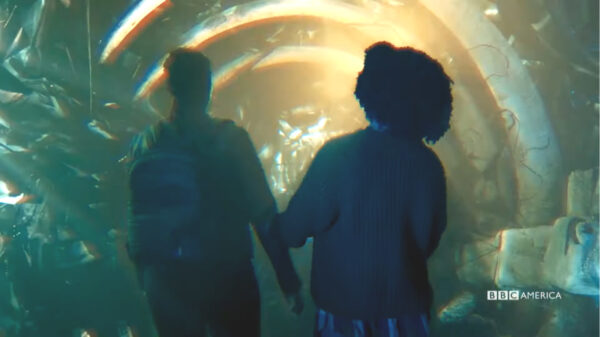 Warren Brown plays Jake Willis.

Hong Kong:

Other trailer stills from Praxeus:
Written by Pete McTighe and Chris Chibnall and directed by Jamie Magnus Stone, Praxeus airs Sunday, February 2, 7:10 p.m. on BBC One and 8:00 p.m. on BBC America.