We still don't have the official announcement of the UK boxset, but the extras listing for the full Doctor Who series 10 DVD release in the US has now been unveiled. And it's been confirmed that we're going to be getting deleted scenes as part of the package.
The full confirmed list of extras is as follows:
Deleted Scenes
Audio Commentary
An "Inside Look" into each episode
"Becoming the Companion" – following Pearl Mackie as she travels from the London stage through the doors of the TARDIS to a once-in-a-lifetime role And More!
How many commentaries and deleted scenes we get remains to be seen. We assume the UK release at the very least will replicate these extra features.
Earlier story, from August
Whilst we still await the formal UK announcement, over in the US, BBC America has gone ahead and confirmed that a complete Doctor Who series 10 boxset will go on sale in November. Thus far, it's only listed for DVD, with no Blu-ray information. We wait and see if that changes.
The release date, that Amazon US is carrying is stated as November 14th 2017. It's expected we'll get a host of extra features – rather than the gluing together of the two series 10 releases to date – but as of yet, no further details have been forthcoming.
There is some box art, though. As you'd expect, it's in line with the promotional material that was released as the series was running…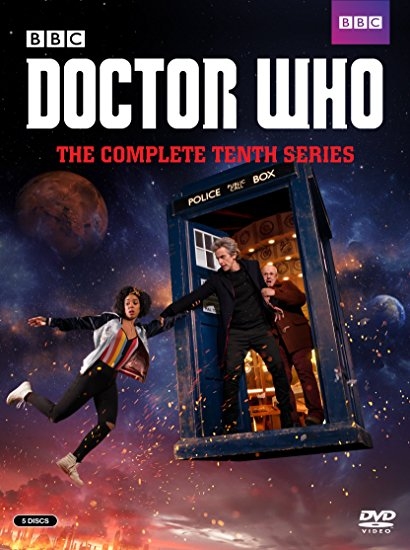 When we have more news on the UK release, we'll let you know…