As we previously reported, the episode of Doctor Who Series 11 that Joy Wilkinson wrote is titled The Witchfinders.
Here is the official synopsis and cast list, according to an official BBC press release:
The Doctor, Ryan, Graham and Yaz arrive in 17th century Lancashire and become embroiled in a witch trial, run by the local landowner. As fear stalks the land, the arrival of King James I only serves to intensify the witch hunt. But is there something even more dangerous at work? Can the Doctor and friends keep the people of Bilehurst Cragg safe from all the forces that are massing in the land?

Guest starring Siobhan Finneran and Alan Cumming. Written by Joy Wilkinson. Directed by Sallie Aprahamian.
From the Radio Times listing:
The Doctor and her friends travel back in time to 17th-century Lancashire, where they get mixed up in a witch trial orchestrated by a local landowner. The air of fear sweeping the land is only intensified when King James I himself turns up – but while the king and the locals are gripped by paranoia about hidden evil in their midst, a very real danger lurks close at hand.
The full guest cast list:
Alan Cumming: 
King James I
Siobhan Finneran: 
Becka Savage
Tilly Steele: 
Willa Twiston
Tricia Kelly: 
Old Mother Twiston
Stavros Demetraki: 
Alfonso
According to Doctor Who Magazine, Siobhan Finneran "brings a steely demeanour to the formidable" Becka Savage.
Writer Joy Wilkinson spoke of Alan Cumming and his character, King James I to Doctor Who Magazine:
"Alan Cumming is absolutely amazing as James I"

"Meeting the King gives the Doctor a chance to engage with the person who's kicked off all the witch hunts. He was a very religious man, who I think saw himself as God's white knight, on a mission to wipe out witches and vanquish evil."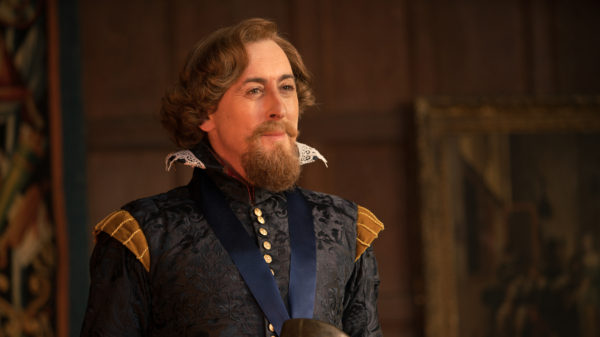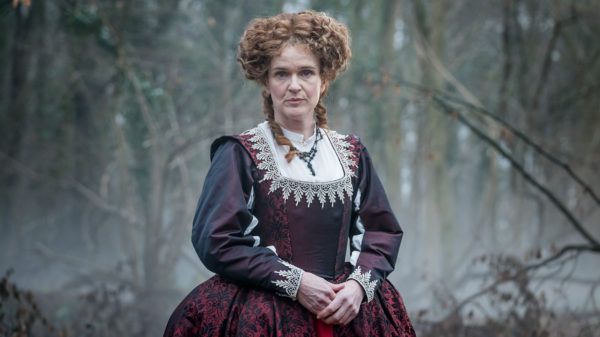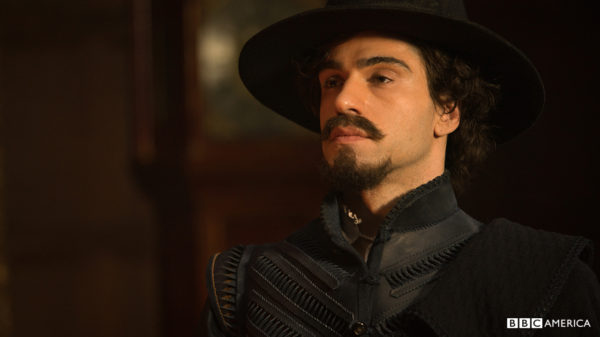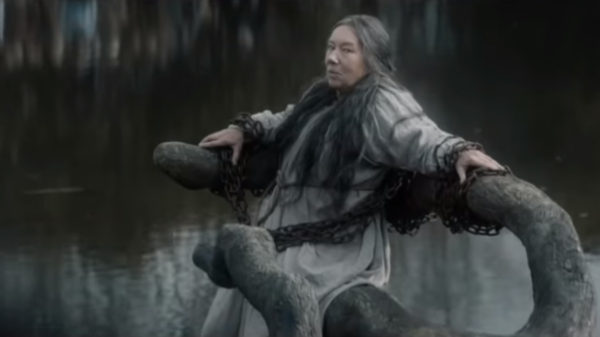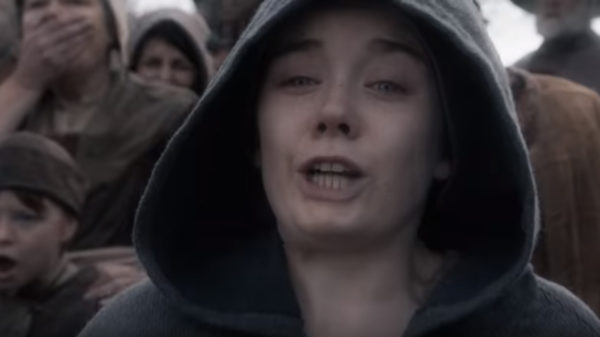 Arthur Kay is the young boy pictured in the featured photo above with Mandip Gill and Jodie Whittaker.
A photograph from Gosport location filming was published in The News, Portsmouth.
The Daily Mail covered Monmouth location filming near Treowen Estate.
Another location used for filming The Witchfinders was a wetland area in Cowbridge used for filming a scene depicting the drowning of  accused witches.
Alan Cumming revealed that he will play King James I in an episode of Doctor Who. King James personally supervised the torture of accused witches and wrote Daemonologie, a dissertation on black magic.
Wilkinson previously described the episode she wrote to Doctor Who Magazine as "dark, funny, squelchy".
Why squelchy? Well, for one thing there was some very muddy location filming, according to director Sallie Aprahamian in Doctor Who Magazine:
"The weather was not kind to us on one of the episodes – howling rain storms, snow, lots of mud and bright sunshine, sometimes within minutes of each other. The cast and crew were amazing, working on through with good humour and craft. That's how Doctor Whomagic sometimes has to happen."
And there is a character called a Mud Witch in Aprahamian's filming block.
#DoctorWho casting info: a mud witch in block 3 pic.twitter.com/4C8aCtauOT

— Ruther (@Ruther2) February 24, 2018
Written by Joy Wilkinson and directed by Sallie Aprahamian, The Witchfinders is only the third Doctor Who story written and directed by women since Enlightenment in 1983 and The Mark of the Rani in 1985.
The Witchfinders will air on Sunday, November 25, 6:30 p.m. on BBC One and 8:00 p.m. on BBC America.