"You know, chaos is a wonderful thing," claims the Master in the trailer for Spyfall: Part 2.
Part 2 picks up where Part 1 left off with the Doctor (Jodie Whittaker) in the unknown.
And her companions, Graham (Bradley Walsh), Yaz (Mandip Gill) and Ryan (Tosin Cole) are in an aeroplane about to crash.
The Doctor is heard saying, "No exit strategy – in the unknown." "All hope lost." and Daniel Barton (Sir Lenny Henry) says, "Welcome to the end of your life."
Hope is never lost when it comes to the Doctor. The Master (Sacha Dhawan) is heard saying, "When I arrange for your death I expect you to stay dead," which is an odd thing for him to to say, knowing the history between the Doctor and the Master.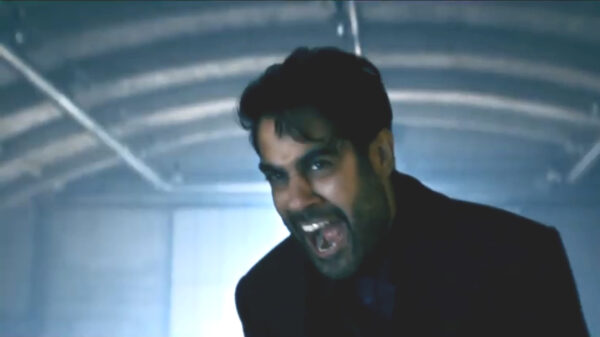 The trailer also features a telegraph tapping out the four beats that drove the Master crazy in the third series of Doctor Who, The Sound of Drums.
Who is the telegraph operator? Possibly wireless operator and World War 2 hero Noor Inayat Khan, played by Aurora Marion. The Doctor somehow finds herself face-to-face with Inayat Khan in 1943 German-occupied Paris.
Sylvie Briggs plays English mathematician Ada Lovelace in SpyFall: Part 2.
Lovelace's collaborator Charles Babbage is also in Part 2, played by Mark Dexter.
The "light beings" also return in Part 2. According to the cast list published in the Radio Times, Struan Roger voiced a Kasaavin in Spyfall: Part 1, which is likely the name of these mysterious, transcendent beings.
According to the Block 2 Director of Photography, this scene in the Series 12 trailer of the Doctor looking at the sunset is also from Spyfall: Part 2.
Both the BBC and BBC America posted slightly different trailers for SpyFall: Part 2.
Written by Chris Chibnall and directed by Lee Haven Jones, Spyfall, Part 2 airs on Sunday, January 5 at 7:00 p.m. on BBC One and 8:00 p.m. on BBC America.