According to an article in TV & Satellite Magazine, which features an interview with showrunner Chris Chibnall, Team TARDIS will face some inner struggles in the Doctor Who series finale, The Battle of Ranskoor Av Kolos.
The Doctor, Graham, Ryan and Yaz race to find answers, but as they try to understand what's taken place on the intriguing planet, they start to wonder if their biggest struggles lie within themselves.
Chris Chibnall cryptically hints at their struggles:
"The emotional journeys of our four heroes has been the big arc of this series. They've been through a lot. They've lost people. They've been thrown across the universe and seen all the danger and tough times that being with the Doctor an throw at you ‒ and they've made the conscious decision to travel with her."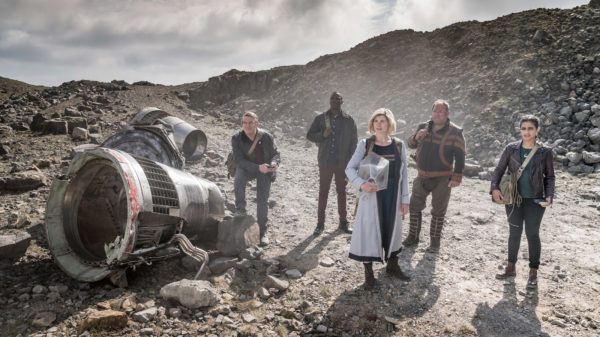 CultBox composite synopsis:
The Doctor and her companions receive nine separate distress calls, all originating from the mysterious planet of Ranskoor Av Kolos, littered with the remains of a terrible battle. The only clue to what has happened on this world is a commander named Paltraki, who has no memory. Who or what are the Ux? As further secrets are uncovered and strange forces gather in the mists, the Doctor and her friends are going to be tested with a deadly and emotional reckoning as they start to wonder if their biggest struggles might lie within themselves. How far have they come and how much have they learned? Are they going to make mistakes at a crucial moment?
What is the mystery behind Ranskoor Av Kolos in this "big and explosive" series finale? Part of the answer might be here and the Doctor hears a familiar voice in one of the trailers.
The guest cast list:
Mark Addy: Paltraki
Phyllis Logan: Andinio
Percelle Ascott: Delph
Jan Le: Umsang
Written by Chris Chibnall and directed by Jamie Childs, The Battle of Ranskoor Av Kolos airs on Sunday, December 9, 6:25 p.m. on BBC One and 8:00 p.m. on BBC America.