It's been fourteen years since Ocean's Thirteen, three since spin-off Ocean's 8, but Don Cheadle has suggested there may be more to come.
In a recent interview with Entertainment Weekly, while out promoting his new movie No Sudden Move, directed by Ocean's director Stephen Soderberg, Don Cheadle reported that Soderberg is thinking about ideas for a further sequel.
"We were talking about it [after 'Ocean's Thirteen'], and then Bernie [Mac] passed, and very quickly we were like, 'No, we don't want to do it,'" Cheadle said. "But I just did a movie with Stephen and he said, 'I think there may be a way to do it again. I'm thinking about it.'
However, he made no suggestions about what the film might entail or who might star, going on to say:
"And it didn't go much further than that. But I don't know; I don't know who all would be in it. I imagine the main group of us would be in. It would be interesting to see."
Across the trilogy of movies, from 2001 – 2007, Cheadle starred as "British" explosives expert Basher, alongside George Clooney, Brad Pitt, Matt Damon, Casey Affleck, Scott Caan, et al. Ocean's Eleven itself was a loose remake of the 1960 Rat Pack heist film starring Frank Sinatra, Dean Martin and Sammy Davis Jnr.
Ocean's 8
Two of the modern ensemble, Elliot Gould and Shaobo Qin then returned for cameos in 2018's female-centered spin-off Ocean's 8, where Sandra Bullock lead a similarly stellar cast; Cate Blanchett, Rihanna, Helena Bonham Carter, Sarah Paulson, Awkwafina, Mindy Kaling, and Anne Hathaway all joined in the fun.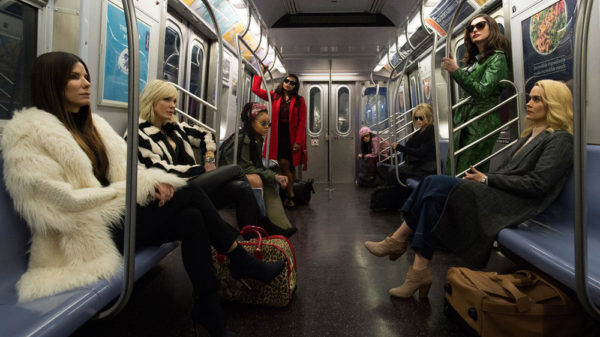 Ocean's 8 was a palpable box office hit, generating $297 million worldwide from a reported budget of $70 million, so it's no wonder thoughts have returned to the franchise.
Frankly, the mind boggles as to what the set up for any new Ocean's movie might be – or what number. A return with the original stars, excepting the now sadly passed Carl Reiner and Bernie Mac? Or perhaps blending of the two casts? Then there's the thorny issue of Danny Ocean's apparent death, although given the character's flexible relationship with the truth, it's nothing the wave of a screenwriter's pen can't cure!
In the meantime, here's the trailer for No Sudden Move which is being released on HBO Max in the US on 1st July. There's no news on a UK release date as yet.
As ever, CultBox will keep you posted.