"Nobody mention Frankenstein. Nobody interfere. Nobody snog Byron," is how the Doctor  instructs her companions before they visit the renowned literary inhabitants of 1816 Villa Diodati near Lake Geneva in Switzerland.
The BBC has released a photo of four of the actors portraying the villa residents in the eighth episode of Doctor Who Series 12, The Haunting of Villa Diodati, which includes a first look at Jacob Collins-Levy as Lord Byron.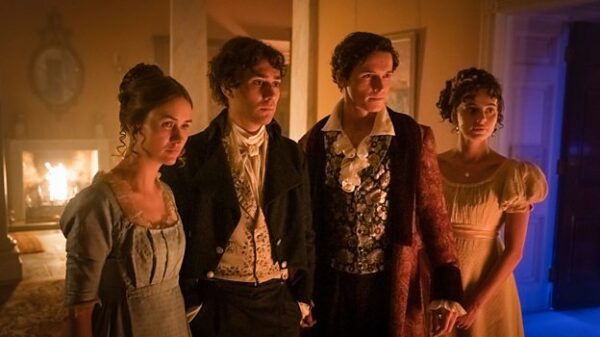 Pictured from Left to right are Mary Wollstonecraft Godwin, who will be later known as Mary Shelley (Lili Miller), Dr John Polidori (Maxim Baldry), Lord Byron (Jacob Collins-Levy) and Claire Clairmont (Nadia Parkes). Not pictured is Percy Bysshe Shelley, Mary's future husband (Lewis Rainer).
In the summer of 1816, the famous poet Lord Byron rented Villa Diodati on Lake Geneva. There he met and befriended the poet Percy Bysshe Shelley who was traveling with his future wife Mary Godwin. Byron's personal physician, John Polidori, Shelley and Godwin rented a smaller house nearby. The group was also joined by Mary's stepsister, Claire Clairmont, with whom Byron had an affair.
When constant rain kept the five indoors at the villa over three days in June, they amused themselves by reading fantastical stories, including Fantasmagoriana, which inspired them to devise their own tales of horror. It was there Mary Shelley wrote what would become Frankenstein, or The Modern Prometheus.
The official synopsis for the episode:
The Doctor and gang arrive at the Villa Diodati, Lake Geneva, in 1816 – on a night that inspired Mary Shelley's Frankenstein. The plan is to spend the evening soaking up the atmos in the presence of some literary greats – but the ghosts are all too real. And the Doctor is forced into a decision of earth-shattering proportions…
Written by Maxine Alderton and directed by Emma Sullivan, The Haunting of Villa Diodati will air Sunday February 16, 7:10 p.m. on BBC One and at 8:00 p.m. on BBC America.