On a phone call to Doctor Who Magazine from his home in the United States, Chris Noth teased his willingness to reprise his Doctor Who role as the villainous businessman with political aspirations, Rack Robertson, who appeared in both the Series 11 episode Arachnids in the UK and the Series 12 episode Revolution of the Daleks.

"Oh hell yeah!  Count me in," Noth told the magazine. "I feel like I'm part of the Doctor Who family, so to speak. I love it. I wave the Doctor Who flag all the time. There are a lot of Doctor Who fans in America, so I think you guys will keep on keeping."
"And watch out, It's not impossible Robertson could come back to cause more trouble. You never know…"
Noth also revealed to DWM his admiration for Jodie Whittaker's many strengths in her role as the Time Lord.
"Jodie's masterful at taking it 100 per cent seriously but also having a bit of fun with it because it's all enjoyable. It's there in the writing and everything else. Jodie is truly committed to where the text takes her both in a comedic and in a more dramatic way."
"I can't tell you how much I admire her," Noth continued to DWM, "I know what it's like to have children and to continue your job as an actor. It's hard work. Jodie works very long hours and it's complicated and technical – but she's whip-smart and just a joy. She has great energy and timing and presence."
Noth also took time in the DWM interview to praise his other Revolution of the Daleks co-stars, Mandip Gill, Tosin Cole, Bradley Walsh and John Barrowman.
"It was a great group. They're all terrific. I can tell you that the show's hard on them – the hours are long, but that's just the way it goes. I wish the cast a great new season!"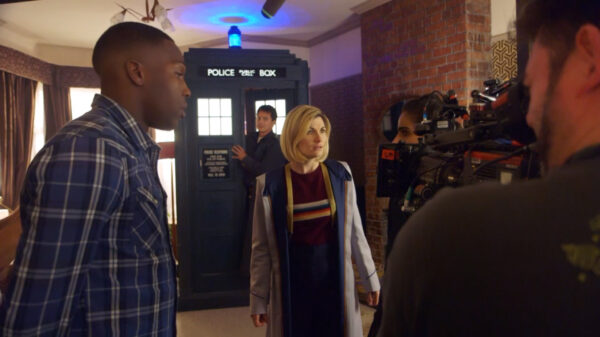 Gill returns as companion Yaz along with new companion Dan (John Bishop) in Doctor Who Series 13. The filming, with eight episodes planned, will continue into July. The clip which introduced Dan revealed the series is scheduled to air sometime in 2021, likely late autumn.
Doctor Who Magazine 562 is available by post or digital subscription now.