On An Evening with John Bishop, a small exclusive paid Zoom event on February 18 hosted by Always Be Comedy which this CultBox reporter attended, John Bishop praised co-star Jodie Whittaker's skills as both a lead actress and ambassador for Doctor Who.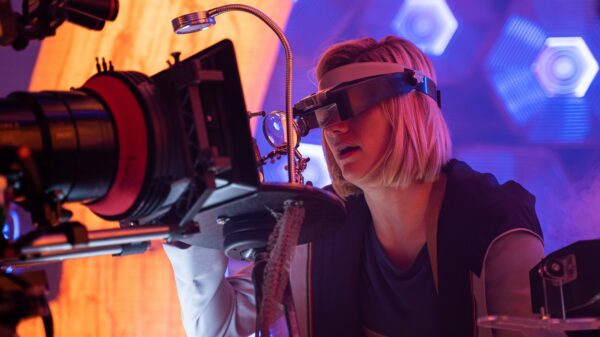 The Scouse comedian and actor, who portrays new companion Dan on Series 13 of the programme, warmly spoke of his admiration for his leading co-star.
"It's so amazing to watch her because [Jodie] runs the show. It's all about her character and so she's there all the time – but she has to say things that don't make sense!"
Bishop went on to hilariously parody the types of technical lines Whittaker is required to learn and speak as the clever Time Lord known as the Doctor.
"She's got to do a scene where she has to explain the transformation of time and space with an alien from another dimension. So she'd be saying things like, 'The quarks haven't worked because the fundamentals of time and space have been erased and corrected by the Planedium of  Light. And the human race needs to survive, because if it doesn't, time and space will forever be in another quantum and the seriousness of time away from a cup will be lost forever!'"
Author's note on the quote immediately above:
It's not easy to transcribe technobabble spoken with a thick Liverpool accent. However, a comic send-up of Doctor Who technobabble is not intended to be understood so, if the preceding paragraph is slightly inaccurate, this is plainly not a significant issue.
"She's absolutely brilliant because she's got all that pressure and yet she's such a great person to have around," Bishop continued. "Of course, I could imagine some people trying to learn what she has to learn at the pace she has to learn it [would] blunder it and cry and shout, and I could imagine some people would be right d**ks."
The challenges Whittaker faces aren't limited to learning lines. Stunts and wire work are also required as evidenced by the photos in this Instagram post from Doctor Who Series 13 of Jodie Whittaker hanging from a harness in front of a green screen while filming at Roath Lock Studios during the first week of February.
View this post on Instagram
Additionally in the An Evening with John Bishop Zoom interview, Bishop described his experience joining the already established Doctor Who talent team.
"I've started in November and I learned so much because Mandip Gill who played companion [Yaz] for the last couple of series, she's still in it, so obviously they've got chemistry and have a way together."
He soon learned that Jodie Whittaker is very warm, welcoming and generous with all her fellow actors.
"She's running a global franchise. She's carrying it. She's lovely," he explained with his signature broad grin.


Eight episodes are planned for Doctor Who Series 13 with the filming continuing into July. The clip which introduced John Bishop as companion Dan revealed the series is scheduled to air sometime in 2021, likely late autumn.