In a handful of interviews on the red carpet at the BAFTA awards in London in May 8, new Doctor Who lead Ncuti (pronounced "Shooty") Gatwa and showrunner Russell T Davies spoke of Gatwa's recent casting announcement and plans for the programme.
In two separate interviews, Gatwa explained how Doctor Who helps people feel seen.
"It feels really amazing! It's a true honour," Gatwa remarked to BBC Entertainment News Correspondent Lizo Mzimba. "This role is an institution and so iconic and it means a lot to so many people including myself. And so it makes everyone feel seen as well. It's something that everyone can enjoy. So I feel very grateful to have had the baton handed over and I'm going to try to do my best."
"[The Doctor is] a Time Lord. He's literally an alien – they are an alien and so they can regenerate into anything and anyone and for me, I just find the show to be the most beautiful form of escapism," Gatwa explained to The Sun's correspondent. "You forget about all your worldly troubles and you get to go to space and battle aliens and I feel like — augh! I don't know I don't feel like anyone can kind of put themselves in those shoes. I certainly do. The Doctor is not from anywhere. They don't fit in anywhere and I think for marginalized people, they have been a real beacon of kind of feeling like — seen, in a way."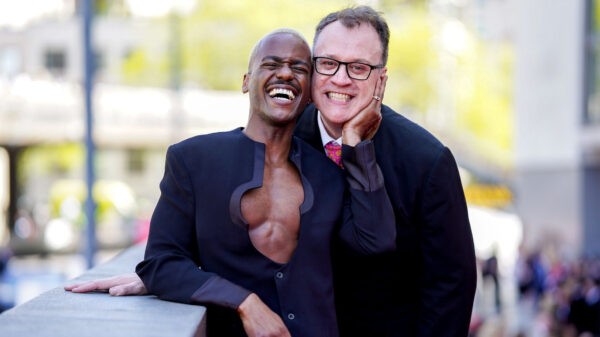 While interviewed by Mzimba about whether he was excited or nervous, Gatwa said, "All of the above. I've know since about February. It's been tricky trying to keep this under wraps because I've got a very big mouth!"
"I'm definitely going to do my own thing," Gatwa explained when asked if there was a particular Doctor whose performance he would emulate. "I mean they are all amazing! You can't pick."
"I don't know who isn't a fan of Doctor Who," he said as showrunner Russell T Davies laughed next to him. "So, yeah, very excited to join the family."
"[Rusell T Davies'] writing is dynamic, exciting, incredibly intelligent and fizzing with danger – an actor's metaphorical playground. The entire team have been so welcoming and truly give their hearts to the show."
"And so as much as it's daunting, I'm aware I'm joining a really supportive family. Unlike the Doctor, I may only have one heart but I am giving it all to this show."
Mzimba asked Russell T Davies what made him think Gatwa is the person for the part.
"His talent. He had the most blazing audition! He was out last audition. He was out very last one. We thought we had someone and then in he came and stole it! And genuinely, I've watched Sex Eduction, loved his work, didn't know quite what we were going to get until I was in the room and meeting you since, Ncuti. It's just gonna be a joy. I'm properly, properly thrilled! It's going to be a blazing future."
"It's all going to happen in 2023."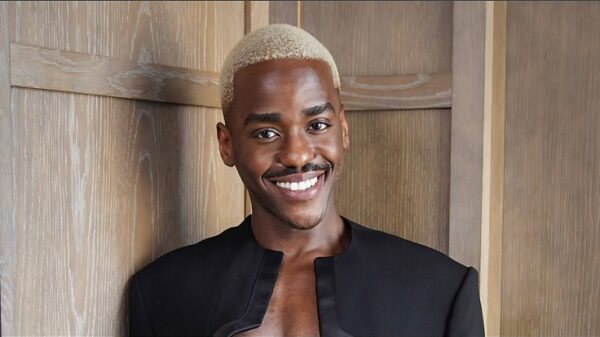 In his interview with The Sun, Gatwa explained, "I feel really happy that I can now talk about it because I got cast in February. We've been keeping it a secret since then and so it's nice to finally breathe. But like also really nervous because it's an incredibly iconic role and an incredibly iconic show and I just hop I do it justice. I'm following some very, very big footsteps and so I'm just hoping that I fill them up."
"What will I bring to the role? I don't know, fabulousness!," he laughed. "Russell [T Davies is] writing and I'm going to try to do Russell's writing justice. I think that's the real star of the show."
"He walks into the room, you see him, you don't know what you're going to get and I fell in love, frankly," Russell T Davies told The Sun. "He's stunning. He did an audition and just blew everyone away! I think when you cast the Doctor, you cast the potential. I can see him for years exploring the bar and taking it somewhere new. That's what I felt. I felt that in my heart. I thought, 'We can go anywhere with this.'"
Just Ncuti Gatwa singing the @DoctorWho theme… #VirginMediaBAFTAs pic.twitter.com/gdxlbeDwny

— BAFTA (@BAFTA) May 10, 2022
"It's been emotional. I was just saying I woke up crying and then I started dancing…," Gatwa told the BAFTA correspondent.
Davies further told The Sun that the next Doctor Who episode to air starring Jodie Whittaker as the Doctor in the the as-yet-untitled Doctor Who BBC centenary special, will be 90 minutes long and will air in October of 2022.
"Lovely Jodie Whittaker, who I adore, I spoke to her yesterday. We phoned her yesterday to tell her about Ncuti — and she's still the Doctor. She's got an enormous finale, epic finale, 90-minute finale in October."