The Doctor's companions are set to face one of their biggest and most frightening challenges yet, with the help of Captain Jack Harkness, in the Doctor Who New Year's special Revolution of the Daleks.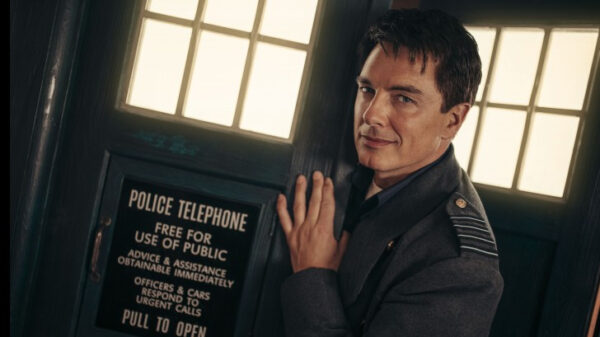 John Barrowman plays Captain Jack, one of the most iconic and recognisable characters in Doctor Who. He was asked how he got away with being back in Cardiff without giving away he was filming for the programme.
"The irony is I did the costume fitting the day I was doing a concert in Cardiff. Ray (Holman the costume designer) came to the hotel, it was the same hotel I stayed in with my husband, Scott, after we got married and the hotel had put pictures of us up in the room, so we were doing the costume fitting, I took a picture of me in the room with Cardiff in the background and thought if people only knew…"
"When we were filming, I was being driven to set with hoodies on and I was also able to throw people off the scent because I said I was there to remodel our flat. I've never actually posted a picture of which I will do, it'll be quite funny when I do that. It's a little fun thing. I think because we live in Cardiff, and have a house there, people don't find it weird when they see me in town. They don't think I'm there filming. So it's a very good thing to have a house there because it throws them off the scent."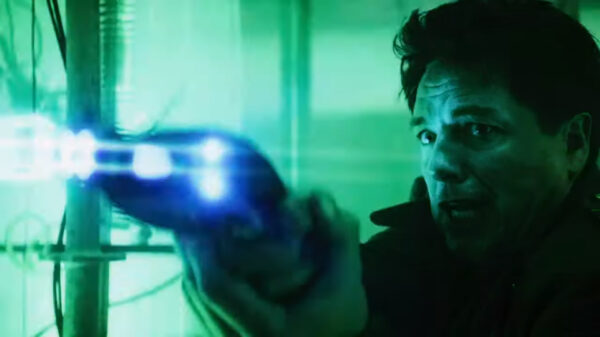 "Putting Jack's coat on is like wearing an old coat. I know exactly who he is, I know exactly how he talks, I know exactly the way he delivers things so it's like putting an old pair of shoes or an old coat. It's why I rarely put the coat on for photographs and things because it changes my whole demeanour."
"Captain Jack is a little older. He's still fun. He still very much has a joie de vivre, a lust for life and a passion for saving people and humanity, as does the Doctor. You can expect cheeky lines. You can expect a couple of… shall we say a few sparks between he and somebody. He plays along with to wind that person up. Jack always seems to find somebody who has a heart and Jack then has a lovely chat with… I'll just say someone he finds in Team TARDIS who has a very big and open heart."
There's more information about this heart-to-heart from Mandip Gill when she talks about working with Barrowman in issue 334 of SFX magazine.
"We had some really gorgeous scenes together where he tells me about his experience of having the Doctor, and losing the Doctor, and all that kind of stuff. So I think he really resonates with Yaz, and they really bonded…"
Barrowman also spoke of Captain Jack's role in the special on Lorraine November 30.
"He will meet the thirteenth Doctor. I'm not going to tell you how."
"He will also be part and parcel to saving the universe and the world from the Dalek rev… the invasion."
Bradley Walsh had this praise for his Revolution of the Daleks co-star.
"He makes me laugh a lot. He is a breath of fresh air. Funny guy and a great actor and far too handsome for his own good!"
When asked how long he had been planning Captain Jack's appearance in Revolution of the Daleks, Showrunner Chris Chibnall has this to say:
"Ooh a long time, it's been cooked up for a long time. We knew he'd be coming back for this special so we back-laid him into the previous series and the Judoon episode in the middle there. It's been cooked up over lots of phone calls and secret meetings, and not so secret meetings, at John Barrowman concerts and things like that! He smuggled me backstage and we had a secret conversation. I knew that I really wanted Captain Jack to meet the thirteenth Doctor and it had been a long time since he'd been on screen in Doctor Who so well overdue, and with festive specials you want them to feel like a treat, and there's no bigger treat than John Barrowman's Captain Jack."
Written by Chris Chibnall and directed by Lee Haven Jones, Revolution of the Daleks will air January 1, New Year's Day 2021 on BBC One and BBC America.