Fans of Lucifer — more clues have dropped on Twitter, teasing details of season 5B
Following on from Friday's Lucifer season 5B trailer, we've been given a set of images from the upcoming episodes, and cryptic messages. The one above shows Amenadiel (DB Woodside), Lucifer (Tom Ellis) and Chloe (Lauren German) in a very Wide West showdown lineup, though in a stadium. It looks to us like the reverse view from the scene at 1:12 in the trailer where the same three face off to Michael and the other Celestials, except that one is in an amphitheatre. There are several more on the Lucifer Twitter feed — we take a look at a few.
Lucifer — more clues or red herrings?
Maze and Eve
We've known Eve (Inbar Lavi) would be back, and here she is with Maze (Lesley-Ann Brandt), but where is she? It's a hospital bed, so what's happened? Who are the flowers from? Maze has her back to Eve so their relationship is still not running smooth.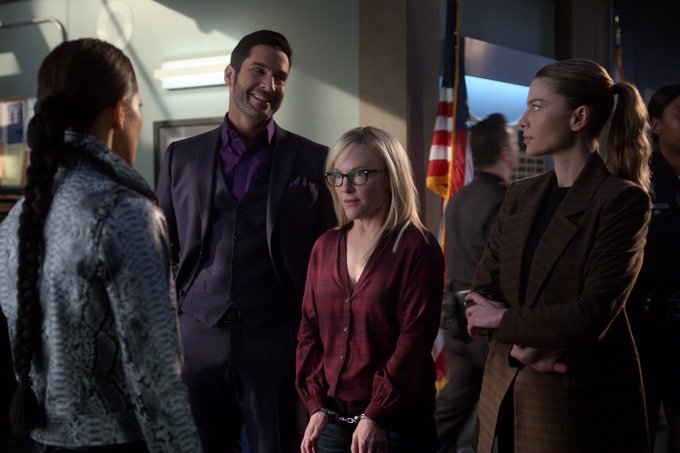 Here we have a laughing Lucifer and smiling Chloe, but what about Dr Linda (Rachael Harris)? What has she done to end up arrested and in cuffs? What is Maze saying? Is it connected to why she hits Dan so forcibly in the trailer at 1:41? Mystery indeed!
Speaking of Dan (Kevin Alejandro), what's happened here? Who was he fighting? Where is Amanadiel taking him? Is there any chance of a happy ending for Detective Espinoza?
We thought we'd end on something more upbeat, and prove that (despite what we think is a red herring in the trailer), all is well with our lovers. We do wonder what the picture is they're holding…