Filling another gap in missing Doctor Who episodes, The Abominable Snowmen will be released in 2022 on DVD, Blu-ray and as an exclusive Steelbook this year.
The six-part Season 5 second Doctor story The Abominable Snowmen was recreated in animation based on audio recordings of the original episodes. Most of the six-part adventure story was lost soon after the programme's original transmission in 1967 and only the audio recordings of the episodes survived.
The recreation gives fans the opportunity to enjoy the six new fully-animated presentations of this lost classic, which will be released along with the one surviving second episode.
A trailer for the animation was released.
The Doctor (Patrick Troughton) returns to the Himalayas 300 years after his first visit to the Holy Ganta, an ancient relic he was given many centuries ago by the grateful monks at Det-Sen Monastery. On arriving, the Doctor is blamed for a series of brutal murders in the area, however companions Jamie McCrimmon (Frazer Hines) and Victoria Waterfield (Deborah Watling) discover the true culprits – the previously peaceful Yeti that live in seclusion on the mountainside have apparently turned violent. The Doctor must convince the monks that not only is he not their enemy, but the real foe is living amongst them. Their ancient Master, Padmasambhava, is being controlled by an alien entity known only as the Great Intelligence.
It would seem a documentary for The Abominable Snowmen animation DVD was filmed at Nant Ffrancon pass in Gwynedd, Wales on June 27, 2021.
Aaaaand… we've done the on-location making-of! https://t.co/mQmGNytkdM

— Chris Chapman (@ChrisChapman81) November 23, 2021
The pass was used in 1967 as a filming location for The Abominable Snowmen. The documentary crew was photographed by a motorcyclist on a tour of North Wales.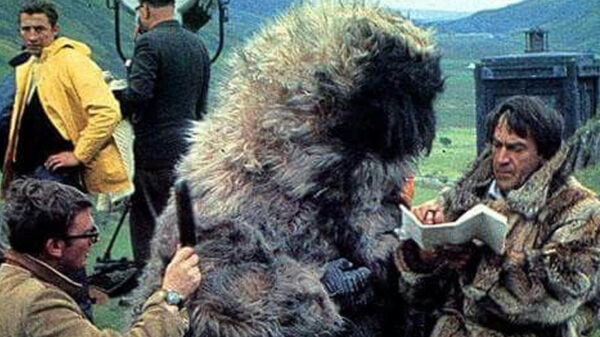 Russell Minton, Executive Producer of The Abominable Snowmen release, said:
"We're delighted to announce Doctor Who: The Abominable Snowmen, something Doctor Who fans have been waiting patiently for over the years. We're grateful for the surviving audio-only recordings, which we are very lucky to have courtesy of several Doctor Who fans, which have allowed us to create another exciting and action-packed chapter in the Doctor's story."
Doctor Who: The Abominable Snowmen is available to order from Amazon, Rarewaves, HMV and Zavvi in the UK. It will also become available on Amazon in the US and Canada and from JB, Amazon and Sanity in Australia.