We've crammed a Star Trek news bonanza into a single post — there's news on Picard, Lower Decks, Discovery and Prodigy!
There's a lot to digest and we'll no doubt follow up with a few more news pieces soon, but for now here's just some of the highlights of their First Contact Day promitions.
Star Trek: Discovery season 4
We've a first look piece (including trailer) for Star Trek: Discovery season 4 (and don't forget we've some thoughts on where the season may take the crew) and there's plenty to read (and the picture we've taken above). It's due late 2021, and the official synopsis is:
Season four finds Captain Burnham and the crew of the U.S.S. Discovery facing a threat unlike any they've ever encountered.  With Federation and non-Federation worlds alike feeling the impact, they must confront the unknown and work together to ensure a hopeful future for all…
Star Trek: Discovery season four cast members include Sonequa Martin-Green (Captain Michael Burnham), Doug Jones (Saru), Anthony Rapp (Paul Stamets), Mary Wiseman (Sylvia Tilly), Wilson Cruz (Dr. Hugh Culber), David Ajala (Cleveland "Book" Booker), Blu del Barrio (Adira) and Ian Alexander (Gray).
Star Trek: Picard season 2
There's an interview between Wil Wheaton and Patrick Stewart, and here the headline is John De Lancie will be back as Q. De Lancie had a cameo in Star Trek: Lower Decks season 1. You can see the interview on the official Star Trek site.
Star Trek: Lower Decks season 2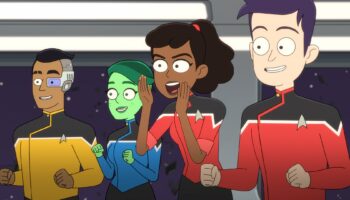 It's a summer return for Star Trek: Lower Decks (August 12) and the show has also been renewed for a third season!
Star Trek Prodigy
Another animated series, and it's the return of Kate Mulgrew as Janeway in Star Trek: Prodigy. Mulgrew can be seen talking here, and there are other articles as well on the show. As we said at the start, the Star Trek news bonanza is almost too much to assimilate, so expect more news soon!